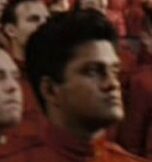 Ravi Valleti (born 8 September 1979; age 36) is an actor who appeared as a Starfleet Academy cadet at James T. Kirk's hearing in Star Trek. He did not receive on-screen credit for his work. [1]
Valleti was born in Hyderabad, India, and first acted at age 9 in Santa Clara, California in a local play called "Nachiketa". He returned to acting at Santa Clara High School, from which he graduated in 1997. While attending Santa Clara High, he played Chief Bromden in the school's production of One Flew Over the Cuckoo's Nest.
Valleti holds a double B.S. in Mechanical Engineering and Aerospace Engineering from the University of California at Irvine. He wrote and delivered the commencement speech at his graduation entitled "Where Are All The Flying Cars?".
Valleti further trained in acting at the Living the Art Institute in Valley Glen, California, at the San Francisco School of Digital Filmmaking, and with VoiceOne SF Sunday Improv. He had a supporting role in the 2008 Cannes Film Festival short film "Next Round". He made his major studio film debut in the comedy 17 Again, released a month before Star Trek.
External link