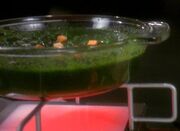 Ratamba stew was a Bajoran stew, emerald-green in color.
In 2372, Benjamin Sisko cooked some for his son and Kasidy Yates, serving it over spinach linguine. Yates noted that she could smell it down the corridor from his quarters. (DS9: "For the Cause")
External link
Edit
Ad blocker interference detected!
Wikia is a free-to-use site that makes money from advertising. We have a modified experience for viewers using ad blockers

Wikia is not accessible if you've made further modifications. Remove the custom ad blocker rule(s) and the page will load as expected.