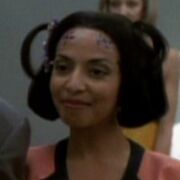 Rainelle Saunders is an actress who appeared in an uncredited role as a Taresian woman in VOY: "Favorite Son".
Among her film resume are Mergers & Acquisitions (1989, with Mark L. Taylor, Jim Beaver, Stephen Hudis, Jimmy Ortega, Judi Durand, and J.D. Hall), Columbo: Columbo Cries Wolf (1990, with Alan Scarfe, Mark Margolis, David Huddleston, Sandra Wild, Cameron, and Jimmy Ortega), Heat (1995, with Ashley Judd, Ray Buktenica, Rick Avery, Vince Deadrick, Jr., Kenny Endoso, Cindy Katz, and Jeff Imada), and Nutty Professor II: The Klumps (2000, with Earl Boen, Nikki Cox, Viola Kates Stimpson, and Charles Napier).
External link
Edit
Ad blocker interference detected!
Wikia is a free-to-use site that makes money from advertising. We have a modified experience for viewers using ad blockers

Wikia is not accessible if you've made further modifications. Remove the custom ad blocker rule(s) and the page will load as expected.