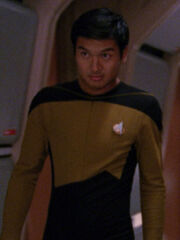 Rachen Assapiomonwait is an actor who was a regular background performer on Star Trek: The Next Generation portraying Crewman Nelson. He received no credit for his appearances and was named in the fourth season episode "Clues".
According to the call sheets, Assapiomonwait was scheduled to appear in the fourth season episode "First Contact" and in the fifth season episodes "Darmok", "Silicon Avatar", and "The Masterpiece Society" in scenes in engineering but was either not filmed or cut from the final episodes.
Other acting credits include the action film Showdown in Little Tokyo (1991, with Cary-Hiroyuki Tagawa, Phil Chong, and Branscombe Richmond), the comedy Molly (1999, with Mark Phelan, Musetta Vander, Brian George, and Athena Massey), the fantasy comedy Monkeybone (2001, with Whoopi Goldberg, Ted Rooney, Mary Stein, Scott Workman, Randall Bosley, and Pam Blackwell), the drama New York Waiting (2006, with D.C. Douglas), and the video productions The Garbage (2007) and Inappropriate Workplace (2008).
Appearances
Edit
External link
Edit
Ad blocker interference detected!
Wikia is a free-to-use site that makes money from advertising. We have a modified experience for viewers using ad blockers

Wikia is not accessible if you've made further modifications. Remove the custom ad blocker rule(s) and the page will load as expected.