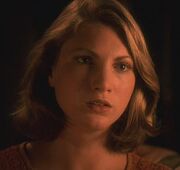 Rachel Robinson (born 14 July 1975; age 42) played Melanie in DS9: "The Visitor". She is also the daughter of Andrew Robinson (Garak) and was a leading candidate for the role of Ezri Dax on Star Trek: Deep Space Nine. [1] She currently lives in Portland, Oregon and works primarily as a singer / songwriter. She released a self-titled EP in 2003, Platonica Files in 2007, My Pleasure in 2009, and c'est la swimming in 2015.
David Livingston, the director of "The Visitor" commented "We saw a lot of young women but she blew everybody away. She had an innocence and an intelligence and an enthusiasm, all qualities that I thought made the character very rich". Ira Steven Behr added "She gave a very lovely performance. I know Andy was very proud, and he had every reason to be". (Star Trek: Deep Space Nine Companion)
Robinson has also guest starred in ER and Judging Amy (with Kevin Rahm). She has appeared in the films Loser Love, Can't Be Heaven (with Matt McCoy), and He's Such a Girl (with Jennifer Hetrick and Ed Begley, Jr.).
External links
Edit
Ad blocker interference detected!
Wikia is a free-to-use site that makes money from advertising. We have a modified experience for viewers using ad blockers

Wikia is not accessible if you've made further modifications. Remove the custom ad blocker rule(s) and the page will load as expected.