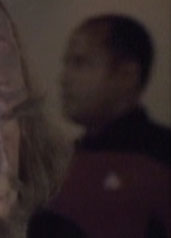 R. Swain is an actor who appeared as a command division officer aboard the USS Sutherland in the Star Trek: The Next Generation fifth season episode "Redemption II" in 1991. He filmed his scenes on Friday 12 July 1991 on Paramount Stage 9.
According to the call sheet, Swain was also scheduled to sit at the conn aboard the Enterprise-D in bridge scenes in the episode "Silicon Avatar" but was replaced by Cooper. Swain appeared as a command division officer in the fifth season episode "A Matter of Time".
Ad blocker interference detected!
Wikia is a free-to-use site that makes money from advertising. We have a modified experience for viewers using ad blockers

Wikia is not accessible if you've made further modifications. Remove the custom ad blocker rule(s) and the page will load as expected.