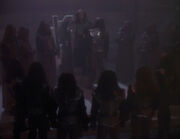 R. Bruce is an actor who appeared as a member of the Federation Archaeology Council in the Star Trek: The Next Generation fourth season episode "Qpid" in 1991. He filmed his scenes on Friday 8 February 1991 on Paramount Stage 8.
He also appeared as a Klingon High Council member in the episode "Redemption" for which he filmed his scenes on Monday 15 April 1991 on Paramount Stage 16.
Bruce appeared as a Klingon warrior in the fifth season episode "Redemption II". He filmed his scenes on Tuesday 16 July 1991 and Wednesday 17 July 1991 on Paramount Stage 9 and 16.
According to the call sheets for the fifth season episode "The First Duty", Bruce was one of the six background performers who appeared as parents during the hearing scenes. However, only four parents appeared in these scenes.
A Klingon belt worn by him was also worn by stunt actor Mitchell Danton and was later sold off on the web. [1]
Ad blocker interference detected!
Wikia is a free-to-use site that makes money from advertising. We have a modified experience for viewers using ad blockers

Wikia is not accessible if you've made further modifications. Remove the custom ad blocker rule(s) and the page will load as expected.