Ad blocker interference detected!
Wikia is a free-to-use site that makes money from advertising. We have a modified experience for viewers using ad blockers

Wikia is not accessible if you've made further modifications. Remove the custom ad blocker rule(s) and the page will load as expected.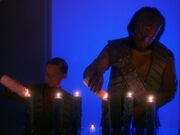 The R'uustai was the Klingon rite of bonding, in which two Klingons joined together to become brothers, one entering the other's House. Candles were lit and the member entering the Klingon House received a sash. The words "SoS jIH batlh SoH" were spoken to honor the memory of the participants' mothers.
In 2366, Lieutenant Worf and Jeremy Aster performed this rite after Jeremy's mother was lost while on an away mission that was led by Worf; he consequently claimed the right of R'uustai. (TNG: "The Bonding")