Ad blocker interference detected!
Wikia is a free-to-use site that makes money from advertising. We have a modified experience for viewers using ad blockers

Wikia is not accessible if you've made further modifications. Remove the custom ad blocker rule(s) and the page will load as expected.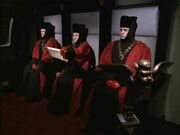 Judge Q was a high ranking official in the Q Continuum who had the ability to control the powers and lives of any Q in the continuum – ranging from removal of powers to change in form.
In 2378, Judge Q determined the future of Q's son, Q Junior, after he underwent testing by the crew of the USS Voyager, following a streak of misbehaving and troublemaking. After bumpy testing with problems and successes, Judge Q sentenced "Junior" to serve his life as a Human. This sentence was eventually changed by persuasion from Q, and his son's powers were restored. (VOY: "Q2")