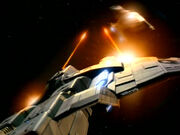 A pulse cannon was a type of starship mounted or ground based directed energy cannon weapon.
The Tandaran Detention Complex 26 was defended by pulse cannons. They were the first targets hit by Enterprise NX-01 shuttlepod piloted by Trip Tucker during his liberation of the camp in late 2151. (ENT: "Detained")
Zobral's desert hideout was protected by pulse cannons. One of them was hit by two attacking Torothan cruisers, during a raid in 2152. (ENT: "Desert Crossing")
In 2370, Quark arranged for the Vulcan gunrunner Sakonna to procure a dozen pulse cannons from the Pygorians for the Maquis. (DS9: "The Maquis, Part II")
Ad blocker interference detected!
Wikia is a free-to-use site that makes money from advertising. We have a modified experience for viewers using ad blockers

Wikia is not accessible if you've made further modifications. Remove the custom ad blocker rule(s) and the page will load as expected.