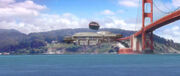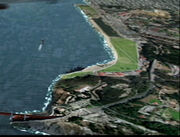 The Presidio, also known as the Presidio of San Francisco, was the site of an ancient army base in the city of San Francisco on Earth.
Starfleet Command Headquarters and Starfleet Academy eventually occupied the Presidio, as well as grounds north of the Golden Gate Bridge in Marin County. Mindful of the site's history, Starfleet maintained the ancient coastal defense installation "Fort Point", as well as the iconic Golden Gate Bridge (completed in 1937) until its catastrophic damage in the Breen attack of 2375. (Star Trek: The Motion Picture; DS9: "The Changing Face of Evil"; VOY: "Endgame")
There was once a mine shaft located in the center of the Presidio within which there was an entrance to an underground cavern where Data was decapitated. (TNG: "Time's Arrow, Part II")
In the alternate reality, Starfleet Headquarters was not located at the Presidio; instead, it was located at Second Street. The Presidio was the home for Starfleet Academy and several shuttle hangars. In 2259, its location in San Francisco was seen on a map of the San Francisco Bay that was displayed on a powerwall in the office of Admiral Alexander Marcus. (Star Trek; Star Trek Into Darkness)
In an alternate timeline in 2404, USS Voyager had become a museum, placed on the grounds of the Presidio. (VOY: "Endgame")
External link
Edit
Ad blocker interference detected!
Wikia is a free-to-use site that makes money from advertising. We have a modified experience for viewers using ad blockers

Wikia is not accessible if you've made further modifications. Remove the custom ad blocker rule(s) and the page will load as expected.