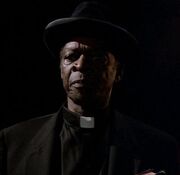 A preacher was the title given to a person on Earth who spread the Word of God.
In a vision sent to Benjamin Sisko by the Prophets and a Pah-wraith, Benny Russell often encountered an African-American preacher in Harlem, New York. (DS9: "Far Beyond the Stars")
External link
Edit
Ad blocker interference detected!
Wikia is a free-to-use site that makes money from advertising. We have a modified experience for viewers using ad blockers

Wikia is not accessible if you've made further modifications. Remove the custom ad blocker rule(s) and the page will load as expected.