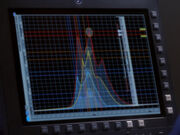 The power utilization curve was a type of report which displayed the power efficiency of a weapon.
In 2153, Lieutenant Malcolm Reed and Alex tested and increased the power of a phase-pistol to be more effective against a Borg drone. Reed watched the curve while Alex increased the amount of megajoule. (ENT: "Regeneration")
A starship can be identified on sensors by its power utilization curve, as a vessel utilizing 100% power has the ability to skew sensor readings. (TOS: "Journey to Babel")
Ad blocker interference detected!
Wikia is a free-to-use site that makes money from advertising. We have a modified experience for viewers using ad blockers

Wikia is not accessible if you've made further modifications. Remove the custom ad blocker rule(s) and the page will load as expected.