Ad blocker interference detected!
Wikia is a free-to-use site that makes money from advertising. We have a modified experience for viewers using ad blockers

Wikia is not accessible if you've made further modifications. Remove the custom ad blocker rule(s) and the page will load as expected.
Featured society and culture article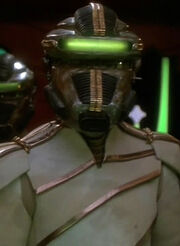 The Breen were a reclusive, powerful, and warlike humanoid race, native to the planet Breen in the Alpha Quadrant.
Shrouded in mystery, the Breen were discovered to be one of the most underestimated races inhabiting the Alpha Quadrant. Historically, the Klingons were among the first to discover the consequences of underestimating the Breen. During the Klingon Second Empire, Chancellor Mow'ga ordered an entire fleet of Klingon warships to invade and conquer the Breen homeworld. The fleet never returned and was never heard from again.
Even by the 24th century, much was still unknown about the Breen and their otherwise politically unaligned government, known as the Breen Confederacy. The Federation, however, had limited knowledge of the Breen and were aware of Breen outposts located near a black cluster in 2368. In 2370, the Breen participated in a palio held at Deep Space 3, during which the Ferengi attempted to bribe the Breen pilot into throwing the race. In 2373, the Breen settlements on Portas V near the Demilitarized Zone dealt with the Maquis, supplying them with cold-storage units.
Did You Know that Romulan ale was illegal throughout the Federation for at least 100 years before the ban was lifted in 2374, only to be reinstated by 2379, and that despite the embargo, many Starfleet officers had actually tried the beverage at some time in their career?