Featured person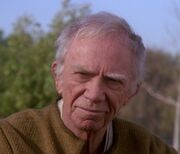 Mr. Boothby was the curmudgeonly groundskeeper at Starfleet Academy in San Francisco on Earth. He was born in the mid to late 23rd century and has been working at Starfleet Academy since about 2321. He has seen a lot of promising young cadets come and go, often offering up helpful advice and kind words; among them such prominent Starfleet captains as Jean-Luc Picard, Kathryn Janeway, Richardson, and Lopez.
Boothby was disdainful of herbicides and other high-tech devices, and preferred to tend to the grounds by hand. After a big parrises squares win in 2324, it took Boothby three weeks to repair the grounds following the celebration. In 2368, Boothby claimed that he was cranky because he had been forced to replant the same flower bed several times.
Did You Know that James T. Kirk has caused opponents with artificial intelligence to destroy themselves – using nothing but verbal arguments – on at least four separate occasions?
Browse people

By organization

By occupation

By ship or station

By origin