Featured merchandise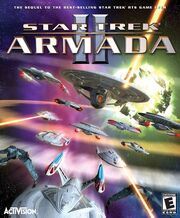 Star Trek: Armada II is a real-time strategy game, published by Activision in 2001. The sequel to Star Trek: Armada, it featured improved three dimensional graphics as well as more classes of ships. It also added Species 8472 and the Cardassian Union as playable races.
"The Federation stands on the precipice of another major conflict that threatens the fragile peace we have worked so hard to achieve. It's been six months since we successfully dealt with the threat of the Omega Particle. Tensions between the Cardassians and the Klingon Empire are on the rise, and we've just received word of a renewed Borg threat."
Following some complaints about the length of the
Armada
version, the single-player campaign was altered for this game; now only three races are involved, and each storyline is mostly independent of the others: the Federation must repel a Borg invasion via a new type of transwarp gate, taking the assault into the Delta Quadrant; the Klingons must deal with a resurgent Cardassian military, while the Borg, affected by events in the Federation campaign, must stave off an attack by Species 8472, before combining with the Federation to eliminate this galactic threat.
Did You Know that the Girl Scouts of America once ran a billboard campaign for their cookies that featured images of smiling Girl Scouts, along with the familiar (and ominous) text, "Resistance is Futile"?
Upcoming releases
December

To be announced

Unknown

January

21 January - the twelfth episode of Star Trek: Discovery premieres on CBS All Access.
22 January - the twelfth episode of Star Trek: Discovery is released internationally (except USA and Canada) on Netflix.

February
Novels

| | |
| --- | --- |
| | Novelizations: |
| Series: | Collections: |

Photonovels

Series:
Collections:


Comics

| | |
| --- | --- |
| | Adaptations: |
| Series: | Collections: |

Companies

| | |
| --- | --- |
| Publishers: | Games: |
| Record labels: | Collectibles: |
Ad blocker interference detected!
Wikia is a free-to-use site that makes money from advertising. We have a modified experience for viewers using ad blockers

Wikia is not accessible if you've made further modifications. Remove the custom ad blocker rule(s) and the page will load as expected.