Welcome to Memory Alpha!
Memory Alpha is a collaborative project to create the most definitive, accurate, and accessible encyclopedia and reference for everything related to Star Trek. The English-language Memory Alpha started in November 2003, and currently consists of 42,247 articles. If this is your first visit, please read an introduction to Memory Alpha.
Featured article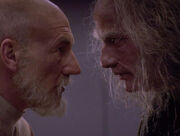 "All Good Things..." was the 25th episode of the seventh season and series finale of Star Trek: The Next Generation.
Following an evening date at the holodeck, Worf and Troi walk back towards Troi's quarters. When Worf is about to kiss her goodnight, Captain Picard, dressed in his bathrobe, walks out of the turbolift, disoriented. Upon asking which date it is, he tells them he is moving back and forth through time.
Discussing the situation with Counselor Troi, Picard suddenly finds himself in the future, at his vineyard. After a short moment of disorientation, he goes on tying the vines. A pleasant surprise, La Forge decided to pay him a visit, coming all the way from Rigel III. He admits Leah told him of Picard's Irumodic Syndrome, and Picard tells him it takes years for the Syndrome to run its course.
Editing Memory Alpha
| | | | |
| --- | --- | --- | --- |
| Basic information | About the encyclopedia | Writing articles | Works in progress |
Ad blocker interference detected!
Wikia is a free-to-use site that makes money from advertising. We have a modified experience for viewers using ad blockers

Wikia is not accessible if you've made further modifications. Remove the custom ad blocker rule(s) and the page will load as expected.