Welcome to Memory Alpha!
Memory Alpha is a collaborative project to create the most definitive, accurate, and accessible encyclopedia and reference for everything related to Star Trek. The English-language Memory Alpha started in November 2003, and currently consists of 45,878 articles. If this is your first visit, please read an introduction to Memory Alpha.
---
Featured article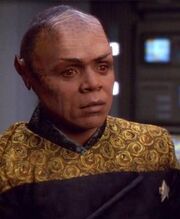 Tuvix was the result of a transporter accident on the starship USS Voyager, combining Lieutenant Tuvok and Neelix in 2372.
The accident was the conclusion to an away mission to collect some orchid samples. Only one molecular pattern rematerialized and formed a healthy organism combining everything regarding Tuvok and Neelix, including organs, enzymes, and memories. According to The Doctor, Tuvix also possessed "...Tuvok's sense of intellectual superiority, and Neelix's annoying ebullience." Despite repairs having just been made to the transporter, no fault could be found in the logs at the time of the accident.
It was Tuvix, the name the combined individual had given himself, who realized what had happened. The plant samples, which were also caught up in the matter stream and were also a part of Tuvix, contained lysosomal enzymes. Tuvix' research indicated that this could be an indicator of symbiogenesis, where an organism reproduces by merging with a second species to produce a hybrid. This usually only occurs with microcellular organisms. Tuvix suggested that being deconstructed during beaming allowed the symbiogenesis enzymes of the plant to react to Neelix' and Tuvok's DNA in the matter stream, so only the single organism existed at the point of rematerialization. The theory turned out to be correct when two plants and the orchid were beamed up together, resulting in one plant arriving on
Voyager
.
Editing Memory Alpha
| | | | |
| --- | --- | --- | --- |
| Basic information | About the encyclopedia | Writing articles | Works in progress |