Welcome to Memory Alpha!
Memory Alpha is a collaborative project to create the most definitive, accurate, and accessible encyclopedia and reference for everything related to Star Trek. The English-language Memory Alpha started in November 2003, and currently consists of 42,741 articles. If this is your first visit, please read an introduction to Memory Alpha.
Featured article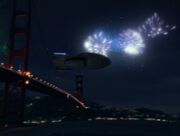 "Endgame" is the 25th episode of the seventh season and series finale of Star Trek: Voyager.
2404: Fireworks light up the San Francisco night. The long-lost Federation starship Voyager, now returned from its 23 years of travel in the Delta Quadrant, buzzes the Golden Gate Bridge spanning San Francisco Bay, then climbs and twirls like a dancer among the fireworks. Huge, watching crowds cheer lustily.
But the whole thing is revealed to be recorded footage in a news transmission celebrating the tenth anniversary of Voyager's return. In her apartment, with lights off, Vice Admiral Kathryn Janeway watches the transmission. She has the computer end the transmission, and looks sadly out of her window, a dented coffee cup from Voyager sitting on a nearby table serving as a reminder of what happened during their long journey home.
2378
: Lieutenant jg Tom Paris is awakened by the urgent, insistent voice of his very pregnant wife, Lieutenant B'Elanna Torres, telling him "
It's time.
" They are in their quarters aboard
Voyager
. He is at first reluctant to rise, but then realizes what she means: she is in labor. Immediately he is out of bed, fully awake, and contacts The Doctor. In his haste, he does not bother to dress, dashing hurriedly into a robe and accompanying his wife out the door and on the way to sickbay...
Editing Memory Alpha
| | | | |
| --- | --- | --- | --- |
| Basic information | About the encyclopedia | Writing articles | Works in progress |
Ad blocker interference detected!
Wikia is a free-to-use site that makes money from advertising. We have a modified experience for viewers using ad blockers

Wikia is not accessible if you've made further modifications. Remove the custom ad blocker rule(s) and the page will load as expected.