Welcome to Memory Alpha!
Memory Alpha is a collaborative project to create the most definitive, accurate, and accessible encyclopedia and reference for everything related to Star Trek. The English-language Memory Alpha started in November 2003, and currently consists of 41,646 articles. If this is your first visit, please read an introduction to Memory Alpha.
Featured article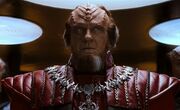 Gorkon was the Chancellor of the Klingon High Council in 2293. In this capacity, he notably pursued peaceful relations between the Klingon Empire and the United Federation of Planets. He was murdered just prior to the start of the Khitomer Conference, however. Only a full explanation of a conspiracy behind his murder allowed for successful negotiation of the Khitomer Accords, which eventually normalized relations between the two governments after years of hostility.
In 2293, the destruction of the Klingon moon Praxis forced the Klingon Empire to reassess its position towards the United Federation of Planets, as the Empire simply could no longer afford to maintain its massive military budget and deal with the devastating effects of the explosion on its economy. Gorkon approached the Federation via Captain Spock and opened negotiations that would see the military outposts on both sides of the Klingon Neutral Zone dismantled and a new alliance forged between the two cold war enemies.
Editing Memory Alpha
| | | | |
| --- | --- | --- | --- |
| Basic information | About the encyclopedia | Writing articles | Works in progress |