Popular culture references in Star Trek
Discuss

84
From time to time various popular culture references have appeared in Star Trek as in-jokes. These references, while mostly included in background displays, have also been in spoken dialog.
The following articles contain references, or homages, to various popular culture media sources.
Numerous science fiction writers have been referenced or acknowledged throughout the series, including Isaac Asimov (Amasov), Robert Heinlein, Ray Bradbury (USS Bradbury, Bradbury-class), Arthur C. Clarke (Clarke's Disease, 2001: A Space Odyssey), Theodore Sturgeon (Sturgeon), Jules Verne (Verne), and H.G. Wells (Wells-class).
In the Treaty of Armens (2255), the writer of this document included a fourth wall reference to the origin of the homages: Rick is initially getting a Kei and Yuri reference into the text. You know, the two cute girls with the big guns. We might also mention Akira, Ranma Nibunnoichi, Rhea Gall Force, Urusei Yatsura, and a few other animated films. (TNG: "The Ensigns of Command")
1941
Production
2001: A Space Odyssey
Crossover performers
Production
20,000 Leagues Under the Sea
Akira
Alias
Production
Babylon 5
See also: Babylon 5
Back to the Future
Crossover performers
Production
Batman
Crossover performers
Battlestar Galactica
Crossover performers
Production
The Beatles
Blade Runner
Crossover performers
Production
Blakes 7
Crossover performers
The Adventures of Buckaroo Banzai Across the 8th Dimension
Crossover performers
Production
Furthermore, Oscillation Overthruster props can be spotted in a number of episodes.
Buffy the Vampire Slayer
Calvin and Hobbes
Car 54, Where Are You?
Casablanca
Cheers
Crossover performers
Colossus: The Forbin Project
Crossover performers
Cloverfield
Production
Dick Tracy
Crossover performers
Production
Dirty Pair
Disney
Dr. Strangelove or: How I Learned to Stop Worrying and Love the Bomb
Doctor Who
See also: Doctor Who
The First Men in the Moon
Fold Zandura
The Steamrunner-class was named for an Alex Jaeger sketch of an USS Streamrunner (sic), which was in turn named for a song by Fold Zandura. See Steamrunner-class for more details.
Forbidden Planet
Crossover performers
Gilligan's Island
The Hitchhiker's Guide to the Galaxy
Indiana Jones
Crossover performers
Production
James Bond
The Star Trek: Deep Space Nine episode "Our Man Bashir" is basically a parody of the James Bond franchise.
Crossover performers
The Jetsons
Crossover performers
Jurassic Park
Crossover performers
Production
Known Space
Looney Tunes
M*A*S*H
M*A*S*H is an oft-referenced movie and show in Star Trek. Its unit number, 4077, was frequently used on viewscreens and computer readouts.
Crossover performers
The Magnificent Seven
Crossover performers
Magnum PI
The Man from U.N.C.L.E.
Crossover performers
Marx Brothers
Men In Black
Crossover performers
Metropolis
Muppets
Crossover performers
Mystery Science Theater 3000
National Lampoon's Animal House
Crossover performers
Red Dwarf
Ren and Stimpy
seaQuest DSV
Crossover Performers
Sherlock Holmes
Crossover Performers:
Snagglepuss
Star Wars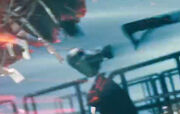 Crossover performers
Production
The Three Stooges
Superman
Crossover performers
Production
Tinker, Tailor, Soldier, Spy
Crossover performers:
The Twilight Zone
In "Carbon Creek", Trip Tucker said "Sounds like an old episode of the Twilight Zone" in response to the Vulcans' crash-landing.
William Shatner, Leonard Nimoy, James Doohan, and George Takei have all appeared in Twilight Zone episodes. Also, Star Trek writers George Clayton Johnson, Richard Matheson, and Jerry Sohl were regular contributors to the series. TOS directors Robert Butler, Ralph Senensky, Robert Gist, and Tony Leader have also worked on The Twilight Zone.
Crossover performers
Production
Urusei Yatsura
The West Wing
When Worlds Collide
Crossover performers
The X-Files
Crossover performers
Related links