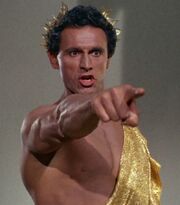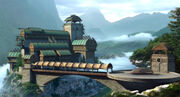 Religion is an abstract set of ideas, values, or experiences developed from cultural interaction. It usually revolves around the idea of the supernatural, sacred, divine, or the highest truth. Religion encompasses ancestral or cultural traditions, writings, history, and mythology, as well as personal faith and mystic experience. It is often codified in prayer, ritual, and religious law.
During Doctor Phlox's stay on Earth, he made a point of studying a number of Earth religions, including Hinduism and Christianity. (ENT: "Cold Front")
In 2376, while trying to discourage the belief that the crew of USS Voyager were spirit folk, Michael Sullivan cautioned that "superstition is the religion of fools." (VOY: "Spirit Folk")
Theologies and deities
Edit
Delphic Expanse
Edit
Ventaxian
Edit
Religious sites
Edit
External link
Edit
Ad blocker interference detected!
Wikia is a free-to-use site that makes money from advertising. We have a modified experience for viewers using ad blockers

Wikia is not accessible if you've made further modifications. Remove the custom ad blocker rule(s) and the page will load as expected.