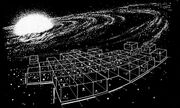 Beta Geminorum, also known as Pollux, was the primary of the Beta Geminorum system.
In 2293, the location of Beta Geminorum in the Milky Way Galaxy was labeled in a star chart that was in Captain James T. Kirk's quarters aboard the USS Enterprise-A. (Star Trek VI: The Undiscovered Country, okudagram)
In
The Explored Galaxy
, Beta Geminorum and Pollux were depicted as two distinct stars, even though they were established to be synonymous in "Who Mourns for Adonais?".
External links
Edit