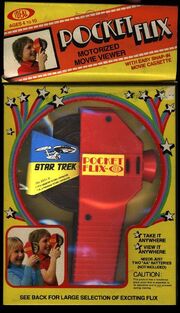 Pocket Flix was a battery-operated handheld motorized movie viewer produced by Ideal Toys in 1978. The unit allowed you to view interchangable circular movie "cassettes" and see clips from your favorite TV shows, cartoons and movies. The unit was sold with various "starter" cassettes, including a Star Trek cassette with footage from the TOS episode "By Any Other Name". The cartridge was also available separately. No footage of the Spock character was included as Leonard Nimoy was involved in a lawsuit with Paramount over the use of his likeness for licensed Star Trek merchandise at the time the toy was released.(citation needed • edit)
Ad blocker interference detected!
Wikia is a free-to-use site that makes money from advertising. We have a modified experience for viewers using ad blockers

Wikia is not accessible if you've made further modifications. Remove the custom ad blocker rule(s) and the page will load as expected.