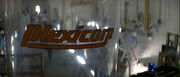 Plexicorp was a 20th century manufacturing plant located near San Francisco, Earth - operated under the management of Dr. Nichols. Plexicorp was well known for its work with polymers and its output of plexiglass.
In 1986, they received an unscheduled visit by "Professor Scott", from Edinburgh, by appointment to study methods of manufacturing by Plexicorp.
Plexicorp, however, was unaware of the appointment, but nevertheless Dr. Nichols offered to take "Professor Scott", and his assistant McCoy, around the plant personally.
At the conclusion of the tour, "Professor Scott" offered Dr. Nichols the formula for a material called "transparent aluminum". Nichols was given the formula in exchange for a number of sheets of plexiglass. (Star Trek IV: The Voyage Home)
The scenes for Plexicorp were filmed on location at a company called Reynolds & Taylor, Inc. (now Reynolds Polymer Technology, Inc.) in Santa Ana, California.
Employees of Plexicorp
Edit