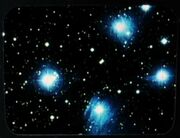 The Pleiades Cluster was a star cluster. The planet Velara III was located in this cluster. (TNG: "Home Soil")
An image appearing to be this cluster was contained in the Enterprise computer in 2254, when the Talosians scanned the recordings of the USS Enterprise. (TOS: "The Cage")
On stardate 41463.9, the USS Enterprise-D was mapping the cluster. During the mission, the Enterprise was asked by the Federation to visit terraformers on Velara III. Soon after resolving a conflict with microbrain, the lifeform native to Velara III, the Enterprise returned to an unnamed starbase with the surviving terraformers. (TNG: "Home Soil")
While on a date, on a holographic recreation of Mars, with Danara Pel, The Doctor pointed out the Pleiades Cluster as among the many star formations and astronomical highlights seen from Mars. (VOY: "Lifesigns")
According to the
Star Trek: Star Charts
("United Federation of Planets II"), the Pleiades Cluster was located in non-aligned space, in the Alpha Quadrant.

An unused image of the

Talos IV

surface prepared for "

The Cage

" showed the Pleiades very prominently in the Talos sky, the brightest stars enlarged to the size of suns.

[1]

According to the

Star Trek Encyclopedia (3rd ed., p. 379}, the Pleiades, also known as M45 or the Seven Sisters, was a region of space with young planets. It was a

"cluster of about 400

stars

in a 25-

light-year

radius, some 415 light years from

Earth

."
External link
Edit