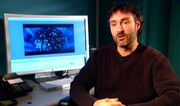 Pierre Martin Drolet (born 1969) is a CGI Artist and Compositor at Eden FX, and was involved with the special effects created in Star Trek Nemesis, Star Trek: Voyager, and Star Trek: Enterprise. Drolet began his work on Star Trek at Foundation Imaging, and moved to Eden following the closure of that company.
Amongst his other Star Trek assignments, Drolet was responsible for the design of the Warp Five Complex spacedock, as seen in "Broken Bow" and subsequent episodes.
Drolet was nominated for a 2003 Emmy Award for his work in the episodes "Dead Stop" and "The Crossing" and again in 2004 for his work in the episode "The Council", both for "Outstanding Special Visual Effects for a Series".
Drolet was also nominated and awarded the 2003 VES (Visual Effects Society) Award for his work in the episode "Dead Stop" for "Best Models and Miniatures in a Televised Program, Music Video, or Commercial." [1]
Drolet was interviewed in the special features of the ENT Season 4 DVD where he discussed the rendering for the Xindi superweapon.
More recently, Drolet worked as digital artist on the fan-made internet series Star Trek: New Voyages episode "World Enough and Time" (2007), on which he worked alongside Michael Okuda, Dan Curry, and Daren Dochterman.
External links