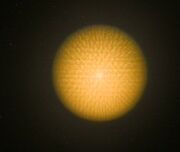 A photonic lattice was an energetic, artificially-created phenomenon, which had the capability of storing both photonic matter and bioelectric patterns.
In 2371, the USS Voyager encountered a photonic lattice while studying a protostar in the Delta Quadrant. Upon beaming photonic matter aboard from the protostar, a photonic lifeform boarded the ship, manifesting itself as the character of "Grendel" in a Beowulf holoprogram, and began abducting crewmembers, converting them into photonic energy.
It was soon realized by the Voyager crew that they had, in fact, abducted photonic lifeforms from the lattice, and the lifeforms were retaliating. Subsequently, The Doctor released the captured lifeform to the one on the holodeck. In response, all of the crewmembers who were abducted were returned to Voyager unharmed. (VOY: "Heroes and Demons")
Ad blocker interference detected!
Wikia is a free-to-use site that makes money from advertising. We have a modified experience for viewers using ad blockers

Wikia is not accessible if you've made further modifications. Remove the custom ad blocker rule(s) and the page will load as expected.