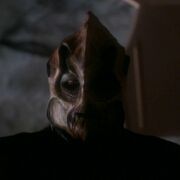 Philip LeStrange (born 8 May 1942; age 75) played Coutu in the Star Trek: Deep Space Nine second season episode "Whispers".
LeStrange has also guest-starred in several of the Law & Order series. In those series, he starred with many past and future Star Trek actors, including TNG guest star Paul Sorvino.
More recently, he had guest roles in Canterbury's Law (2008) and J.J. Abrams' mystery series Fringe (2008, with Kenneth Tigar).
External link
Edit
Ad blocker interference detected!
Wikia is a free-to-use site that makes money from advertising. We have a modified experience for viewers using ad blockers

Wikia is not accessible if you've made further modifications. Remove the custom ad blocker rule(s) and the page will load as expected.