Ad blocker interference detected!
Wikia is a free-to-use site that makes money from advertising. We have a modified experience for viewers using ad blockers

Wikia is not accessible if you've made further modifications. Remove the custom ad blocker rule(s) and the page will load as expected.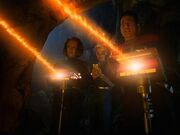 A phaser drill was a device employing phaser technology to drill holes into rock formations or a planet's mantle.
The ship's phasers of the USS Enterprise-D were used as a phaser drill to bore holes into the mantle of Penthara IV to release carbon dioxide located in subterranean pockets. The tectonic stability of the planet was overestimated, however, and the drilling caused massive earthquakes and volcanic outbreaks. (TNG: "A Matter of Time")
Commander Chakotay employed phaser drills to free the Delta Flyer from a rock face. (VOY: "Once Upon a Time")