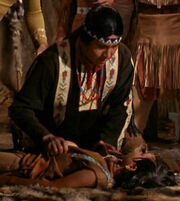 Peter Virgo, Jr. is the actor who played Lumo (credited as Warrior) in the Original Series episode "The Paradise Syndrome". He is the son of actor Peter Virgo.
He also appeared in The Explosive Generation (with William Shatner), Fear No More and Johnny Got His Gun (with Marsha Hunt, Byron Morrow and Bruce Watson).
External link
Edit
Ad blocker interference detected!
Wikia is a free-to-use site that makes money from advertising. We have a modified experience for viewers using ad blockers

Wikia is not accessible if you've made further modifications. Remove the custom ad blocker rule(s) and the page will load as expected.