Ad blocker interference detected!
Wikia is a free-to-use site that makes money from advertising. We have a modified experience for viewers using ad blockers

Wikia is not accessible if you've made further modifications. Remove the custom ad blocker rule(s) and the page will load as expected.
This is a list of characters who have recurring appearances or mentions in Peter Pan Records series of audio adventures and comics.
This article lists non-canon information. Additions to the brief character definitions listed here should include only a list of appearances and a short definition of their status as of their last appearance in this series. Other non-canon appearances will not be listed here. If you want to read about their canon information, their names will be hyperlinked to their main article. The specifics of non-canon characters' appearances should be listed in the character section of each audio production, novel, comic book, or game in which they played a role.
Regular characters
Edit
James T. Kirk
Edit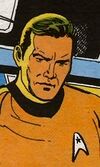 James T. Kirk was USS Enterprise's commanding officer, a Starfleet captain in the 2260s. Rear Admiral Kirk retained the rank of captain when he resumed command in the 2270s.
Spock was the half-Vulcan Enterprise XO and science officer, a Starfleet commander in the 2260s and 2270s.
Leonard McCoy
Edit
Leonard McCoy was the Enterprise CMO, a Starfleet doctor with the rank of lieutenant commander (promoted to commander in the 2270s). ("Passage to Moauv"; "In Vino Veritas"; "The Crier in Emptiness"; "The Time Stealer", "To Starve a Fleaver", "A Mirror for Futility", "The Logistics of Stampede", "The Man Who Trained Meteors", "Dinosaur Planet", "The Human Factor")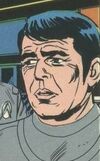 Montgomery "Scotty" Scott was a Starfleet lieutenant commander (later promoted to commander in the 2270s) serving as Enterprise chief engineer. ("In Vino Veritas", "The Time Stealer", "To Starve a Fleaver", "A Mirror for Futility", "The Man Who Trained Meteors", "The Robot Masters", "Dinosaur Planet")
Uhura was a Starfleet lieutenant (promoted to lieutenant commander in the 2270s) serving as Enterprise communications officer. ("Passage to Moauv", "In Vino Veritas", "The Crier in Emptiness", "The Time Stealer", "To Starve a Fleaver", "A Mirror for Futility", "The Man Who Trained Meteors", "The Robot Masters", "The Human Factor")

Hikaru Sulu
Edit

Hikaru Sulu was the Enterprise helmsman, a Starfleet lieutenant (promoted to lieutenant commander in the 2270s). ("Passage to Moauv", "In Vino Veritas", "The Crier in Emptiness", "The Time Stealer", "To Starve a Fleaver", "A Mirror for Futility", "Dinosaur Planet", "The Human Factor")
Pavel Chekov
Edit
Pavel Chekov was the Enterprise navigator and science officer, a Starfleet ensign (promoted to lieutenant and made tactical officer and security chief in the 2270s). ("The Time Stealer", "The Robot Masters", "Dinosaur Planet")
Recurring characters
Edit