This is a list of characters who have recurring appearances or mentions in Peter Pan Records series of audio adventures and comics.
This article lists non-canon information. Additions to the brief character definitions listed here should include only a list of appearances and a short definition of their status as of their last appearance in this series. Other non-canon appearances will not be listed here. If you want to read about their canon information, their names will be hyperlinked to their main article. The specifics of non-canon characters' appearances should be listed in the character section of each audio production, novel, comic book, or game in which they played a role.
Regular characters
Edit
James T. Kirk
Edit
James T. Kirk was USS Enterprise's commanding officer, a Starfleet captain in the 2260s. Rear Admiral Kirk retained the rank of captain when he resumed command in the 2270s.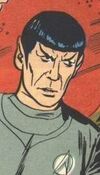 Spock was the half-Vulcan Enterprise XO and science officer, a Starfleet commander in the 2260s and 2270s.
Leonard McCoy
Edit
Leonard McCoy was the Enterprise CMO, a Starfleet doctor with the rank of lieutenant commander (promoted to commander in the 2270s). ("Passage to Moauv"; "In Vino Veritas"; "The Crier in Emptiness"; "The Time Stealer", "To Starve a Fleaver", "A Mirror for Futility", "The Logistics of Stampede", "The Man Who Trained Meteors", "Dinosaur Planet", "The Human Factor")
Montgomery "Scotty" Scott was a Starfleet lieutenant commander (later promoted to commander in the 2270s) serving as Enterprise chief engineer. ("In Vino Veritas", "The Time Stealer", "To Starve a Fleaver", "A Mirror for Futility", "The Man Who Trained Meteors", "The Robot Masters", "Dinosaur Planet")
Uhura was a Starfleet lieutenant (promoted to lieutenant commander in the 2270s) serving as Enterprise communications officer. ("Passage to Moauv", "In Vino Veritas", "The Crier in Emptiness", "The Time Stealer", "To Starve a Fleaver", "A Mirror for Futility", "The Man Who Trained Meteors", "The Robot Masters", "The Human Factor")
Hikaru Sulu
Edit
Hikaru Sulu was the Enterprise helmsman, a Starfleet lieutenant (promoted to lieutenant commander in the 2270s). ("Passage to Moauv", "In Vino Veritas", "The Crier in Emptiness", "The Time Stealer", "To Starve a Fleaver", "A Mirror for Futility", "Dinosaur Planet", "The Human Factor")
Pavel Chekov
Edit
Pavel Chekov was the Enterprise navigator and science officer, a Starfleet ensign (promoted to lieutenant and made tactical officer and security chief in the 2270s). ("The Time Stealer", "The Robot Masters", "Dinosaur Planet")
Recurring characters
Edit