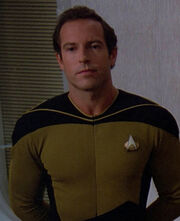 Peter Neptune is the actor who portrayed Crewman Aron in the Star Trek: The Next Generation second season episode "The Dauphin" in 1989.
Other projects he worked on include the television action film C.A.T. Squad: Python Wolf (1988, with Deborah Van Valkenburgh, Miguel Ferrer, Alan Scarfe, and James Saito) and the television biopic Rock Hudson (1990, with Daphne Ashbrook, Andrew Robinson, Michael Ensign, Lawrence Dobkin, Francis Guinan, and Joycelyn O'Brien), as well as guest appearances in television series such as L.A. Law (1988, with Corbin Bernsen, Larry Drake, Rene Auberjonois, James Avery, Dana Sparks, Gregg Henry, and Laura Drake), Tour of Duty (1988, with Dan Gauthier), Hardball (1989, with Granville Ames and Nick Dimitri), and Life Goes On (1989, with Bill Smitrovich).
External link
Edit
Ad blocker interference detected!
Wikia is a free-to-use site that makes money from advertising. We have a modified experience for viewers using ad blockers

Wikia is not accessible if you've made further modifications. Remove the custom ad blocker rule(s) and the page will load as expected.