Ad blocker interference detected!
Wikia is a free-to-use site that makes money from advertising. We have a modified experience for viewers using ad blockers

Wikia is not accessible if you've made further modifications. Remove the custom ad blocker rule(s) and the page will load as expected.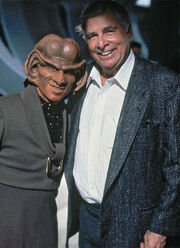 Peter Slutsker (born 17 April 1958; age 58) is an actor who has appeared as four different characters in episodes of Star Trek: The Next Generation and Star Trek: Voyager. In all three of his TNG appearances, he portrayed Ferengi. Slutsker changed his name legally around the millennium and is today better known as Peter Marx.
Slutsker was born in New York City, New York and grew up in Morristown, New Jersey. Between 1987 and 2002, he was married to dancer and actress Barbara Hoon. Following their divorce, Slutsker became a single father and "retired" from acting in 2004.
Star Trek appearances Edit
External links
Edit