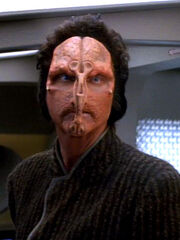 Peter Crombie (born 26 June 1952; age 65) played Fallit Kot in the Star Trek: Deep Space Nine episode "Melora".
Crombie has appeared in many popular motion pictures including My Dog Skip, Se7en (with Paul S. Eckstein and Leland Orser), Natural Born Killers (with Richard Lineback), Safe (with April Grace), and Born on the Fourth of July.
He starred with Avery Brooks in an episode of Spenser: For Hire and had a recurring role as "Crazy" Joe Davola in four episodes of the fourth season of Seinfeld (with Jason Alexander, Stephen McHattie, Heidi Swedberg, and Erick Avari).
Crombie has also guest-starred on NYPD Blue (with Gordon Clapp, Michael Buchman Silver, and Sharon Lawrence), Picket Fences (with Ray Walston), and Diagnosis Murder (with Leslie Bevis).
External links
Edit
Ad blocker interference detected!
Wikia is a free-to-use site that makes money from advertising. We have a modified experience for viewers using ad blockers

Wikia is not accessible if you've made further modifications. Remove the custom ad blocker rule(s) and the page will load as expected.