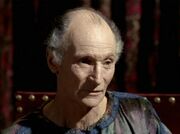 Peter Brocco (16 January 1903 – 20 December 1992; age 89) was an American character actor who played Claymare in the Star Trek: The Original Series episode "Errand of Mercy". His career, spanning six decades, resulted in parts in over 200 movies and television episodes.
Brocco has played in films such as Spartacus (1960, with Jean Simmons, John Hoyt, Arthur Batanides, William Blackburn, Paul Lambert, Dick Crockett, Seamon Glass, and narration by Vic Perrin), Our Man Flint (1966, with Roy Jenson, Chuck Hicks and music by Jerry Goldsmith) and One Flew over the Cuckoo's Nest (1975, with Brad Dourif, Vincent Schiavelli, Christopher Lloyd, Louise Fletcher, Michael Berryman and makeups by Fred Phillips).
Brocco died from a heart attack on December 20, 1992.
External links