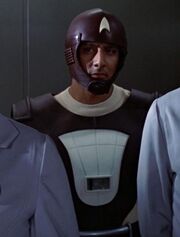 Ensign Perez was a Starfleet security officer assigned to the newly-refit USS Enterprise in the 2270s.
Perez responded to an intruder alert in Ilia's quarters. During the conversation between Kirk, McCoy, and the Ilia probe, Perez inquired what was meant by the term "carbon unit." (Star Trek: The Motion Picture)
Perez was played by Joshua Gallegos and was credited simply as "security officer".
External link