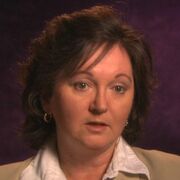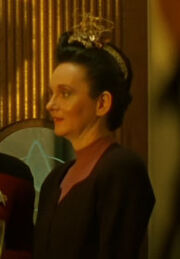 Penny L. Juday was the art department coordinator, an archivist who was responsible for managing props, set pieces, models, blueprints, photographs, and many other parts of Star Trek history. She has cataloged everything on the Paramount Pictures lot relating to Star Trek, and was the first source production designers or set dressers approach when a piece of information or a certain object was needed. Juday also worked as shopper for the productions including Deep Space Nine and located several set pieces and props used on the show on the countryside.
Juday has been frequently interviewed for the special features on Star Trek DVDs, and often provided glimpses into the vault of Star Trek memorabilia housed at Paramount. She has also managed the History of the Future museum at Star Trek: The Experience in Las Vegas, Nevada. In addition, Juday worked as Project Coordinator for Star Trek: The Magazine and as Researcher for the Star Trek Fact Files (credited as Penny Smartt-Juday), contributing photos and information to the technical briefings in both.
She had a small cameo appearance as a civilian of the USS Enterprise-D in Star Trek Generations. She is seen sitting at a table at the beginning of the scene and later leaves the bar, when Picard enters. A good image of her in costume is included in the photo gallery of the Star Trek Generations (Special Edition) DVD set. Ensign Penny Juday, an obscure name on a casualty list glimpsed during DS9: "In the Pale Moonlight", was named for her.
Juday married former Star Trek: Deep Space Nine and Star Trek: Enterprise scenic artist Anthony Fredrickson, after some gentle prodding by Denise Okuda. [1]
Star Trek work
Star Trek interviews
External links