The following is a list of holographic characters incorporated into the Paxau Resort holoprogram.
Alien waiter
Edit
The alien waiter was a character in Neelix's Paxau Resort program.
He served Gallia nectar to Neelix, Tom Paris, and Harry Kim while Neelix received a foot massage from a holographic Talaxian. Paris thought that the waiter was too formal and had the computer change his clothes into something more casual. (VOY: "Warlord")
He was serving drinks at a luau setting that Neelix was planning. (VOY: "Macrocosm", "Alter Ego")
B'Elanna's companion
Edit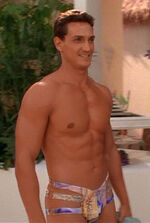 This male companion was added by B'Elanna Torres to Neelix's Paxau Resort program. He handed her a towel and then she went swimming with him. (VOY: "Warlord")
Caribbean band
Edit
A Caribbean band was added by Tom Paris to Neelix's Paxau Resort program to make it more lively. Paris blended in some Earth-like components such as brighter, more casual clothing for resort employees, and the Caribbean band. (VOY: "Warlord")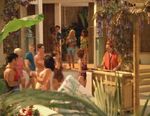 The guests were characters in Neelix's Paxau Resort program. Captain Janeway lured the macroviruses to the holodeck where they infected all the holo-characters. Janeway then threw an antigen bomb into the holodeck, destroying the virus. (VOY: "Macrocosm")
Holowoman
Edit
The holographic woman was a character in Neelix's Paxau Resort holoprogram. She asked Tuvok and Harry Kim if she could join them, but they both said no after their experience with Marayna. (VOY: "Alter Ego")
Talaxian masseuse
Edit
This Talaxian woman was part of Neelix' Paxau Resort holoprogram. In 2373, this masseuse gave Neelix a relaxing foot massage. (VOY: "Warlord")
Volleyball team
Edit
These three athletes were originally part of Harry Kim's Sports Program Theta-2 that were transferred over to the Paxau Resort program. These athletes were players from the 2216 championship gold medal volleyball team, with whom Kim had been practicing during his spare time. After Paris added a Caribbean band to the program, they started to dance with Neelix. (VOY: "Warlord", "Macrocosm", "The Q and the Grey")
Ad blocker interference detected!
Wikia is a free-to-use site that makes money from advertising. We have a modified experience for viewers using ad blockers

Wikia is not accessible if you've made further modifications. Remove the custom ad blocker rule(s) and the page will load as expected.