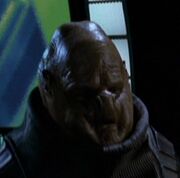 Paul Willson (born 25 December 1945; age 71) is the actor who played Loquar in the Star Trek: Voyager episode "The Void".
He is probably most famous for the recurring minor character of Paul Krapence in the sitcom Cheers, also starring such Trek alumni as Kelsey Grammer, Kirstie Alley, and Bebe Neuwirth. He also reprised the role in a 2002 Frasier episode "Cheerful Goodbyes".
He also appeared in the film Office Space with Stephen Root, Diedrich Bader, and Richard Riehle.
External links
Edit
Ad blocker interference detected!
Wikia is a free-to-use site that makes money from advertising. We have a modified experience for viewers using ad blockers

Wikia is not accessible if you've made further modifications. Remove the custom ad blocker rule(s) and the page will load as expected.