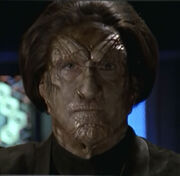 Paul F. O'Brien is the actor who played the Annari Geral in the Star Trek: Voyager seventh season episode "Nightingale". His costume was later sold off on the internet and was also worn by actor Ron Demore. [1]
O'Brien has started his screen and stage career in the late '80s and portrayed supporting roles in the television drama A Case of Deadly Force (1986), the comedy Soul Man (1986, with James B. Sikking, Wallace Langham, Donald Hotton, and Scott L. Treger), the thriller Where Are the Children? (1986, along Joseph Hindy), and the science fiction comedy Second Sight (1989, with John Larroquette, John Schuck, and Ron Taylor).
After a longer break, O'Brien guest starred in several television series such as Law & Order (1993 and 2004, along Bibi Besch, Carolyn McCormick, Tim Kelleher, Dan Desmond, and Lawrence Pressman in the previous one and Vyto Ruginis, Steven R. Schirripa, and Joseph Hindy in the latter one), The Practice (1999, with Paul Collins, Paul Dooley, Stephen Macht, Lawrence Pressman, Saul Rubinek, David Ogden Stiers, and Marcelo Tubert), Providence (1999, with Concetta Tomei, Michael Reilly Burke, and Cristine Rose), Angel (1999, with Michelle Horn and Lee Arenberg), ER (2000, with Emily Bergl, Lily Mariye, and Michelle Bonilla), One Life to Live 2004), and Rescue Me (2006).
O'Brien also appeared in the comedies Twelfth Night, or What You Will (1998) and What's the Worst That Could Happen? (2001) and more recently in the Law & Order: Criminal Intent episode "Players" (2007, with Joe Maruzzo and Harris Yulin) and in the war drama Redacted (2007).
He has also wide success for his stage performances in plays such as "The Crucible" (2002), "Cymbeline" (2007), "Dear Liar" (2007), [2] and Christopher Plummer's "King Lear". He is also the author of the stage play "The Agoraphobe". [3]
External links
Edit