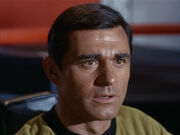 Paul Comi (11 February 1932 – 26 August 2016; age 84) started acting in 1957 and continued until 1995, making about a hundred television guest appearances, about twenty movies, and a number of recurring television roles.
He appeared in TOS: "Balance of Terror" where he portrayed Lieutenant Stiles. He filmed his scenes between Wednesday 20 July 1966 and Tuesday 26 July 1966 at Desilu Stage 9.
Comi appeared three times in The Twilight Zone: in the famous "People Alike All Over" with Susan Oliver, Byron Morrow and Vic Perrin, in "The Odyssey of Flight 33" with John Anderson, and in "The Parallel" with Morgan Jones and William Sargent.
External links
Edit
Ad blocker interference detected!
Wikia is a free-to-use site that makes money from advertising. We have a modified experience for viewers using ad blockers

Wikia is not accessible if you've made further modifications. Remove the custom ad blocker rule(s) and the page will load as expected.