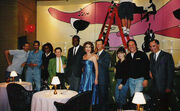 Patti Begley (also known as Patty Begley) is an actress who worked for several years on Star Trek: Deep Space Nine. As a background performer Begley received no credit for her appearances. A costume worn by Begley portraying a Bajoran command division officer was sold off on the It's A Wrap! sale and auction on eBay. [1] Begley was also one of the main stand-ins on the series, standing in for Ferengi performers.
After Deep Space Nine wrapped, Begley worked as stand-in and background actress on the television drama series Judging Amy (1999-2005), starring Kevin Rahm.
External link
Edit
Ad blocker interference detected!
Wikia is a free-to-use site that makes money from advertising. We have a modified experience for viewers using ad blockers

Wikia is not accessible if you've made further modifications. Remove the custom ad blocker rule(s) and the page will load as expected.