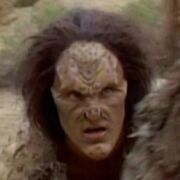 Patrick "Pat" A. Jankiewicz is an actor and publicist who appeared alongside his brother Donald R. Jankiewicz as a Hanon IV native in the Star Trek: Voyager episodes "Basics, Part I" and "Basics, Part II". He received no credit for these appearances.
Born in Detroit, Michigan, Jankiewicz is also the brother of screenwriter Tom Jankiewicz. Several interviews by him were published in issues of Star Trek Magazine, including "The Apple of Our Eye" with Celeste Yarnall in issue 116, "Ensign Expendable" with Paul Carr in issue 123, "Be My Guest" with Tanya Lemani George in issue 125, and "Up Above the Gods" woth Gary Lockwood in issue 140. He also wrote interviews for other magazines such as one with Robert L. McCullough for the February 1993 issue of Starlog, titled "Man & Pakled".
Beside his work on Star Trek he appeared together with his brother in the comedy series Culture Clash (1994), the mystery film Lamb to the Slaughter (2002), the action comedy The Rundown (2003, starring The Rock), and the comedy series Tim and Eric Awesome Show, Great Job! (2007 and 2009).
Other appearances include the comedy Beethoven's 2nd (1993, with Jeff Corey and William Schallert), the comedy Quiet Days in Hollywood (1997, with Jeremy Roberts), the mystery drama K-PAX (2001, with Alfre Woodard, Mary Mara, William Lucking, Kelly Connell, Frank Collison, and Julie Sands), the comedy series The Sarah Silverman Program (2008, starring Sarah Silverman), the short horror film Cleansed (2008), the comedy American High School (2009, with Davida Williams), and the short comedy When Life Gives You Lemons (2010).
Star Trek interviews
External link