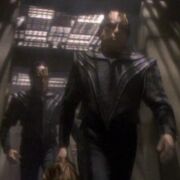 Parker Whitman played a Cardassian officer in the Star Trek: Deep Space Nine pilot episode "Emissary".
Whitman has also guest starred in The A-Team (with Dwight Schultz), Matlock (with Eric Menyuk and Richard Herd), Murder, She Wrote (with Ray Buktenica and Michael Horton), Alf (with Kenneth Tigar), Roseanne, The Wonder Years (with David Selburg, Ben Slack and Olivia d'Abo) and seaQuest DSV.
His motion picture credits include Fatal Beauty (with Whoopi Goldberg, Harris Yulin and Brad Dourif), 18 Again! (with Earl Boen and Nicholas Cascone), Cocktail (with Lisa Banes and Laurence Luckinbill), Total Recall (with Marc Alaimo, Mel Johnson, Jr., Ronny Cox, Roy Brocksmith and Frank Kopyc) and Desire and Hell at Sunset Motel (with Kenneth Tobey).
External link
Edit
Ad blocker interference detected!
Wikia is a free-to-use site that makes money from advertising. We have a modified experience for viewers using ad blockers

Wikia is not accessible if you've made further modifications. Remove the custom ad blocker rule(s) and the page will load as expected.