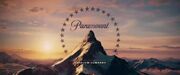 Paramount Pictures is the film production and distribution company that formerly owned the Star Trek franchise and which still holds the rights to the Star Trek feature films. Paramount is owned by the current version of the media conglomerate Viacom, which is in turn controlled by National Amusements.
Brad Grey, previously a television producer, is the current CEO. It is his intention to establish Paramount as a leading media company again, willing to take risks and lure creative talent back. As part of this venture, he lured Gail Berman (one of the original producers of Buffy the Vampire Slayer) into the corporate offices as President.
Paramount Pictures has, for decades, operated its own theater, the Paramount Theatre of the Arts (notice British spelling), currently located at 2025 Broadway Oakland, California, for premiere viewings of its productions.
History with Star Trek Edit
Paramount formally acquired the Star Trek franchise on 27 July 1967 when Lucille Ball's Desilu Studios, the company producing Star Trek: The Original Series (as it was later coined, but then still officially known as simply Star Trek), was purchased for US$17 million dollar by Gulf+Western, which owned Paramount at the time. Paramount Pictures at that time operated its own, hitherto insignificant, television production department, into which Desilu was incorporated to form Paramount Television, through which it now produced and owned the Star Trek television series. As a result of Gulf+Western's purchasing of Desilu, Paramount not only came into ownership of Star Trek, but acquired, aside from the ones that were no longer produced, the three other Desilu television shows that were in production at the time, Mission: Impossible (referenced on Star Trek), Mannix and The Lucy Show, as well. It were actually these three productions, considered hugely successful at the time, that Paramount was particularly interested in, not Star Trek, which was essentially thrown into the deal.
Paramount, which came under ownership of the former Viacom when that company took over the remnants of Gulf+Western in 1994, produced and distributed all Star Trek films and television shows from 1967 through 2016 (Star Trek Beyond), leaving the first season and the two preceding pilot episodes of the Original Series, as well as Star Trek: The Animated Series, the sole exceptions in regard to production.
Acquiring The Original SeriesEdit
Viewed as a commercial failure at the time, Gulf+Western actually wanted to exclude Star Trek from the purchase deal initially, or as then Desilu executive Herb Solow had later put it, "Paramount didn't want Star Trek, because it was losing too much money each week and didn't have enough episodes to syndicate successfully. That was a wise business decision at the time." Yet, Lucille Ball only wanted to sell her company wholesale, lock, stock and barrel, forcing a reluctant Paramount to also accept the legal liabilities of the unwanted property rights. (NBC: America's Network, p. 218)
One week after the acquisition, alarmed by his financial auditors, Gulf+Western founder, co-owner, president and driving force behind the acquisition, Charles Bluhdorn, called one of Desilu's former negotiators, Ed Holly, utterly aghast. Holly recalled, "Just a week or so after the merger, when Bluhdorn had started seeing the cost figures, he called me in the middle of the night. All I heard was 'What did you sell me? I'm going to the poorhouse!' I said, 'Charlie, you must be looking at Star Trek and Mission: Impossible. Those shows are costing almost to the dollar what our projections showed they would cost. You and your people made the judgment that that was all right." (Desilu: The Story of Lucille Ball and Desi Arnaz, 1994, pp. 297-298) Though being a formidable business tycoon, Bluhdorn's exchange with Holly betrayed that he, nor his financial subordinates, had not yet a thorough understanding of motion picture, and television business in particular, having only become a "Hollywood Mogul" less than a year earlier when he bought Paramount Pictures on 19 October 1966. Not in the least reassured by Holly, Bluhdorn decided to visit the set of Star Trek in person to witness a day of production for himself. Finding it an underwhelming experience, what he saw on that day made him highly skeptical, but, even hough it was his prerogative as the temporary chairman of the board of Paramount Pictures, he stopped short of actually ordaining the series' cancellation[1]. Instead, he had a small army of Paramount and NBC financial executives and accountants descend on Star Trek to go through the finances of the production with a fine comb, which inevitably resulted in more severe budget slashes and creative meddlement from the uninitiated. This turned out to be the reason for the subsequent departure of the driving forces behind the show, Solow, and the producers Gene Roddenberry and, at a later stage, Robert Justman. (Inside Star Trek: The Real Story, 1997, pp. 360-et al.) This circumstance only served to reinforce the decision to cancel Star Trek as soon as possible at the time, which – even though NBC and Gulf+Western financial experts, balking at the by them perceived too high production costs, were already pushing for it directly upon the acquisition – was ultimately a call made by television network NBC at the end of the series' third season, reportedly leaving the entire production at US$4.7 million in debt. (Star Trek Creator: The Authorized Biography of Gene Roddenberry, p. 399) Since, due to original contractual obligations, net profits (non-existent at the time) had to be shared between the studio (26⅔%), Roddenberry's production company Norway Corporation (26⅔%), performer William Shatner (20%) and NBC (26⅔%), Paramount went even as far as offering Roddenberry in 1970 the opportunity to obtain the Star Trek property he had created for US$100,000-$150,000. Roddenberry however, was nowhere near able to raise this amount on his own, and the property remained were it was, which turned out to be fortuitous for the studio as, again as per Solow, "History would show that Gulf & Western's purchase of Star Trek alone, the low-rated, money-losing second-year series on NBC, would become one of the most spectacular business moves in entertainment history." (NBC: America's Network, p. 220)
Syndicating The Original Series and resurgenceEdit
Earliest known trade journal Star Trek studio syndication advertisements

Broadcasting, 24 March 1969

Broadcasting, 4 August 1969

Broadcasting, 2 February 1970

Broadcasting, 16 February 1970
Yet, very shortly after the studio had made Roddenberry the offer, Paramount found that its hot potato was quickly turning into a hot property due to its huge and unexpected success in syndication in the early 1970s. In effect, the very first time Paramount sold syndication rights was already in 1969 while the third season was still being aired in its original run on NBC. The buyer, Kaiser Broadcasting (which operated a small chain of local television stations along the West, and East Coast), immediately started to broadcast Star Trek after NBC had canceled the series on a daily basis and, much to their delight, observed a steep rise in viewership and ratings, the latter identified in Star Trek-lore as the reason why the Original Series was canceled by NBC in the first place. (Inside Star Trek: The Real Story, 1997, pp. 417-418) The phenomenon was not lost on other local television stations, and thus the spectacular resurgence of Star Trek in syndication started. It was around that time that Paramount discovered that Roddenberry was selling Star Trek merchandise through Lincoln Enterprises, which was formally an illegal endeavor, as he simply did not own the brand. Yet, both parties struck a deal, which allowed Roddenberry to continue in return of a percentage of the sales, as Paramount also started to realize that their Star Trek property was not a too bad one to have after all. Not yet having a well oiled Star Trek marketing machine of their own, Lincoln Enterprises suited the needs of the studio well in raising the awareness of their increasingly profitable Star Trek brand. By early 1987, when a new television series, Star Trek: The Next Generation, went into pre-production, Variety magazine of 2 December 1991, was able to report that the Original Series had by then netted the studio already over US$1 million dollar per episode in domestic syndication fees alone – and thus excluding the by then substantial sales revenues abroad, as well as those stemming from home media format, and affiliated merchandise sales. Considering the average production cost of US$190,000 per episode, this turned out to be a more than healthy return on investment, especially since Paramount had not borne the costs of the, relatively most expensive, first season of a production that was essentially thrown into the deal (any Desilu book losses in regard to the Star Trek production, would have been accounted for in the purchase price paid by Paramount), arguably for almost free, as Susan Sackett, Roddenberry's personal assistant, had dryly noted that it was NBC which had borne most (but not all) of the production costs (also explaining why there had been NBC financial experts present in the first place at the due diligence audit back in 1967), not Paramount. (Starlog, issue 43, p. 14)
Now the truly ugly side of doing business in Hollywood came to the fore in full force, as it became concurrently known that the studio had shortchanged at least one of its other stakeholders, Roddenberry, who was still legally entitled a full one third of the net profits (in exchange for surrendering any and all other legal title to the series, save for his "Created By"-credit, according to James Van Hise). Roddenberry was by 1981 perpetually led to believe by the studio that the Original Series was still deeply in the red by as much as US$1 million dollar – or US$500,000 by 1982, again according to Van Hise (The Man Who Created Star Trek: Gene Roddenberry, p. 58) – as supposedly "proven" by doctored account statements handed over to him. Roddenberry instructed his attorney, Leonard Maizlish, to start legal proceedings in order to be given access to Paramount's records, seemingly to no avail initially. "The greatest science fiction in show biz is in the accounting", Roddenberry declared chagrined, referring to the infamous "Hollywood accounting" industry phenomenon.[2] (Starlog, issue 43, p. 14) Roddenberry had reasons to be suspicious, as it seemed unlikely that the by 1987 reported net syndication profit of US$78 million dollar was only realized in the intervening six years. While it was at the time unknown what the outcome of the legal proceedings were, it should be noted that it was around this time that Roddenberry entered into his below-mentioned advantageous (financially that is, creatively it was an altogether entirely different matter) movie deal with the studio; It was conceivable that Roddenberry and the studio settled their Original Series accounts on that occasion, as Roddenberry became an affluent man from then on. That this was indeed the case came to light in 1994 when it was revealed that the studio disbursed US$5.3 million in profit distribution to Roddenberry between June 1984 and July 1987. [14]
Launching the Star Trek movie franchiseEdit
As if to underscore Roddenberry's suspicions, former Original Series writer D.C. Fontana was already able to report in the fanzine Star-Borne of 22 June 1972 that, "Paramount...[is] enormously impressed by the quantity (and quality) of fan mail they continue to receive. The possibility seems to be slowly developing of a Star Trek feature movie for theatrical release, aimed at becoming the new Star Trek television pilot...on the network front, NBC still expresses great interest in doing Star Trek in some form. Both NBC and Paramount continue to receive a great deal of mail and have had to assign secretaries for the sole job of answering it." [X]wbm NBC's complete turnaround, not only stemmed from the spectacular resurgence of the Original Series in syndication, but also from its own accounting department. Shortly before Fontana's report, NBC had replaced its old Nielsen rating system, purportedly the results from which having been the primary reason for the cancellation of the series, with a new and updated one. When they ran the original Original Series figures through their new system they found out much to their surprise that it had not only reached full penetration into their most coveted target audience, the male population between 18 and 45, but also that the series had been one of the most successful series, the network had ever aired. The sickening realization hit upon the dismayed network executives, that they had slaughtered the goose that laid the golden eggs, something that every Star Trek fan at the time could have told them, and which they had done in the first place. Hurriedly approaching Roddenberry to see if the series could be revitalized, turned out to be unfeasible, as Paramount had only a few months earlier cleared out their warehouses from the vast majority of the remaining Star Trek production assets, they either being scrapped, given away or simply stolen. Recreating them, calculated at US$750,000, was deemed far too cost-prohibitive. It did however, lead to NBC ordering the creation of Star Trek: The Animated Series. (Star Trek - Where No One Has Gone Before, pp. 51-52)
And indeed, the phenomenon was not lost on Bluhdorn himself, as he had by 1974 completely reversed his stance from the one he had back in 1967, and had by now become enamored with Star Trek due to its huge and unexpected success in syndication – and the recent addition of the Animated Series, which, while not produced by the studio, was legally Paramount property nevertheless, adding an additional Star Trek revenue stream – , embracing the property as something of a pet project. It was therefore, after he had been presented by a subordinate, Paramount's then chief financial officer Arthur Barron, with the idea of turning Star Trek into a movie, that he gave Barry Diller, freshly appointed in October 1974 as the new studio head, as one of his consignments, to turn the idea into a project. Not particularly interested in doing Star Trek in any format whatsoever and, by any standard, a formidable executive himself, Diller nevertheless did not want to repeat the mistake his immediate predecessor Frank Yablans made by antagonizing his new boss and his new-found infatuation with Star Trek and set to work. (The Keys to the Kingdom, Chapter 5)
As it turned out, Roddenberry had already approached the studio with a pitch for a Star Trek movie one year previously. Then Paramount President, Frank Yablans, was very interested, but due to Roddenberry's obtuseness at the negotiation table, the proposition fell through. (Inside Star Trek: The Real Story, 1997, pp 420-421) Despite the failure of the negotiations, Yablans' interest in producing high-tech science fiction was peaked nevertheless and to this end he facilitated and arranged the funding for the establishment of two Paramount visual effects subsidiaries, Douglas Trumbull's Future General Corporation (FGC) and Carey Melcher's Magicam, Inc, a very short time thereafter. [15] Unfortunately, his immediate successors, Barry Diller and Michael Eisner, had zero affinity with science fiction and none whatsoever with visual effects in particular, and tried to shut down FGC immediately upon their ascent, which came back to haunt the production later on. [X]wbm Yablans however, had failed to inform his boss of Roddenberry's prior overtures, and Bluhdorn perceived this as part of Yablans' overall lack of respect for him, which shortly thereafter led to his downfall. Barron incidentally, had approached Bluhdorn on his own accord. (The Keys to the Kingdom, Chapter 5)
Still, getting Star Trek off the ground again as a new live-action production turned out to be not as straightforward as it originally sounded, and for three years the project stubbornly refused to come into fruition. However, when Diller thought up a fourth television network for the company, Paramount Television Services, officially announced on 10 June 1977, he intended Star Trek to serve as its flagship as a new television series, Star Trek: Phase II (or Star Trek II as its official title was to be). Fully endorsed by Bluhdorn, who sensed an even more profitable repeat performance of the property[3], actual production of a new live-action production was finally started the same month. His initial enthusiasm notwithstanding, Bluhdorn soon found out that America was not yet ready for a fourth television network, informed as such by then Vice President of Research Mel Harris, as advertiser's interest did not materialize and he already pulled the plug on the network project near the end of July. Still, he allowed the production of Star Trek to continue, which was, aside from his own personal interest, in no small part due to the desire not to loose development costs already sunk in all previous revitalization attempts. Star Trek: Phase II eventually morphed into Star Trek: The Motion Picture, which was officially announced by the studio on 28 March 1978 to the public at Paramount Pictures in the largest press conference held since Cecil B. DeMille's announcement of his 1923 silent movie, The Ten Commandments. (The Making of Star Trek: The Motion Picture, pp. 50-51).
Even set initially at an in hindsight unrealistic original budget of US$15 million dollar, Paramount took a huge gamble with The Motion Picture as it was the most complex, ambitious and expensive movie project the studio had ever embarked upon in its history, Cecil B. DeMille's (inflation adjusted) 1956 remake of his own 1923 silent movie classic The Ten Commandments, being the sole exception. Having only just recently reversed the fortunes of the studio, after nearly a two decades long slump, all the studio's biggest box-office successes of the mid-1970s, John Travolta's Saturday Night Fever and Grease, as well as Mario Puzo's The Godfather, were in comparison "low-budget" productions, none of them exceeding a production budget of US$6 million dollar (the substantial profits made from these were mainly used as debt-relief and repairing the financial position of the studio). Only in the mid-to-late 1980s, did production budgets start to habitually balloon exponentially, first in double digits, and subsequently into the triple digits.
Partly due to the studio's hitherto utter lack of experience with a technically complex and visual effects heavy productions of this magnitude, the production of The Motion Picture proved to be exceptionally difficult, troublesome, frustrating and, for those times, extremely costly, the latter in no small part due to the studio's own mismanagement of the visual effects production. "We didn't know what these things were, Bob Wise [remark: the movie's director] was a lovely man, but he didn't know, either," Diller conceded, though only much later. (The Keys to the Kingdom, 2000, Chapter 6) Running massively over budget as a result, Diller and his executive subordinates (close to nervous exhaustion) were bracing themselves for a financial disaster, which fortunately for them did not materialize. Immensely relieved of having dodged the financial bullet, Diller and his colleagues counted their blessings and were fully prepared to move on, entirely willing to leave Star Trek behind them. Yet, Bluhdorn was of different mind and ordered the development of sequels shortly after the premiere of The Motion Picture in early 1980. Bluhdorn personally selected Harve Bennett who would head, as executive producer, the production of the subsequent four Star Trek films, of which two, Star Trek II: The Wrath of Khan and Star Trek IV: The Voyage Home, were to become particularly successful.
For all intents and purposes, it was therefore Bluhdorn, who was responsible for the creation of the Star Trek movie franchise. (The Keys to the Kingdom, Chapters 5-7) For a more detailed treatise on the difficult birth of the movie franchise, please refer to: Star Trek: The Motion Picture: Production
Gene Roddenberry however, indeed responsible for some (but not all) production troubles, was by the studio increasingly perceived as very difficult to work with and was essentially removed by them from creative control over the movie, halfway through the production. Actually, Diller had already removed him once entirely from one the the previous revitalization attempts, Star Trek: Planet of the Titans. While the studio, as far as they were concerned, had seen the very last of Roddenberry, the realization also sunk in that by now, no Star Trek incarnation could ever be produced without the Roddenberry name attached to it while he was still alive, due to his by now firmly established stature in the general populace's awareness as the creator of Star Trek, strongly backup-ed by a small, but highly vocal hardcore of the more puritanical Trekkies. Adhering to the old adagio "keep your friends close, but keep your enemies closer", the studio came up with a crafty solution to the conundrum; Roddenberry was "bumped upstairs", given his own office at the studio with a handsome remuneration and given the formal title of "Executive Consultant", which meant that directors and creative staff could ask for his opinion on the project, though with the proviso that his advice was not needed to be taken. Required by the agreement to be kept in the loop, but lost in the studio's equivalent of the "Bermuda Triangle", no one ever thereafter heeded Roddenberry's copious, but unsolicited, advise for the subsequent five movies, nor did anyone even bothered to consult with him. Though for the studio perhaps a costly solution, it was far cheaper than to be bogged down by incessant lawsuits, which were sure to follow given Roddenberry's character, and dealing with the fallout from the Star Trek fanbase, which was equally sure to follow, and the resulting negative publicity. Still, this did not prevent Roddenberry in the slightest to relentlessly harass studio and production staff alike, on occasion even going as far as threatening with legal actions as Actor/Director William Shatner and Director Nicholas Meyer could attest to. The latter was bluff however, as the stipulations of his studio contract simply did not allow for them, and no legal proceedings ever materialized during this period in time. (William Shatner Presents: Chaos on the Bridge; From Sawdust to Stardust, pp. 240-241; Star Trek Movie Memories, pp. 99, et al.)
While acknowledging this state of affairs as "speculation", an opposing view was proffered by authors Judith and Garfield Reeves-Stevens, who have claimed in their reference book Star Trek: The Next Generation - The Continuing Mission (page 3) that, "(t)he real reason for Paramount's concern about keeping Roddenberry tied to each Star Trek film was that every executive involved with the productions shared the maddening knowledge that no one had the slightest idea why Star Trek was a success...except Gene Roddenberry. Without his input, there was always the chance that the next movie wouldn't capture whatever it was that made Star Trek so enticing." While staunch Roddenberry supporters Reeves-Stevens' did have a point where the studio executives themselves were concerned, their assertion was certainly contradicted by the directors, producers and screenwriters (most notably Spock Performer/Writer/Director Leonard Nimoy, who most definitely had a thorough understanding of what made Star Trek "tick", arguably even more so than Roddenberry himself did) of the subsequent five movies, all of them, save Shatner's Star Trek V: The Final Frontier, highly successful and produced without any creative input from Roddenberry whatsoever, and each of them actually opposed by him in varying degrees of vehemence. Roddenberry being put out to pasture, it effectively was the Nimoy-Bennet-Meyer triumvirate that became the keeper of the Star Trek films flame in the decade following The Motion Picture. (Cinefantastique, Vol 22 #5, pp. 39-42)
Creating an overall Star Trek franchiseEdit
Until 1979, and reflecting the studio's general attitude towards Star Trek, merchandising and licensing Star Trek remained a rather passive and haphazard affair; Interested parties had to approach the Paramount Publicity Department with proposals, which the department's involvement somewhat limited to either agreeing to them or not, and drawing up contracts. Having had personal dealings with the department, author Stephen Edward Poe has commented in later years, "Desilu [and its successor] treated the whole idea of Star Trek licensing and merchandising with immense disdain. It was as if studio executives felt greatly annoyed at having to even discuss the subject at all(...)–some sort of corporate aberration–and licensed merchandise emerged only slowly and with, apparently, great reluctance." (A Vision of the Future - Star Trek: Voyager, pp. 45-46)
Paramount's first food products tie-in promotion; Coca-Cola beverage containers on the left, and a still from a McDonald's commercial on the right.

Star Trek Into Darkness on the cover of License! Global magazine
Yet, for all the troubles The Motion Picture represented for the studio as far as the production itself was concerned, it also represented the birth of the modern moneymaking property the studio was to eventually refer to as "The Franchise". Responsible for this was Vice-president of Marketing and Licensing, Dawn Steel, who was charged with coming up with an additional revenue stream after the February 1979 visual effects crisis, which had left the Motion Picture production in a critical situation, as there was no more money left to complete the movie. She did so by organizing a vigorous merchandising and licensing fund drive, which climaxed in a highly imaginative presentation, held in the largest theater on the Paramount lot. A resounding success[4], the presentation was met with rambunctious enthusiasm by the attending prospective licensee companies. "It was the most unbelievable party Paramount ever had.", attending studio producer, Brian Grazer, remembered, to which then novice studio producer Jerry Bruckheimer has admiringly added, "She went to conventions and got every toy-maker, anyone who made T-shirts and key chains and raised every nickel she could. She shook the trees. There hasn't been that energy vortex in merchandise since she left.". Numerous companies signed up, including for the times unusual ones, such as food industry corporations like Coca-Cola and McDonald's. The presentation marked the first time for Paramount that licensing revenues were generated, before a production had premiered. The successful fund drive made Steel's name in the motion picture industry, and a thoroughly impressed Paramount CEO Michael Eisner, who was (in)famous for not being easily impressed, promoted her the next day to vice-president of productions in features, getting her off to a stellar industry career. She had been working in the licensing department for less than six months. (New York Magazine, 29 May 1989, p. 45; 6 September 1993, p. 40; Star Trek: The Complete Unauthorized History, pp. 108-109)
For obvious reasons, Hollywood studios had, and to this day, have been exceptionally loathe to divulge particulars surrounding their revenue streams stemming from licensing and merchandising efforts, Star Trek not excepted. However, Steel, due to the unexpected and exceptional success of her 1979 fund drive, had understandably been somewhat more loose-lipped, unable to resist some bragging at the time. Revealing in January 1980 that General Mills featured Star Trek artwork on 37 million of their cereal boxes, McDonald's had spent US$20 million dollar on TV adds to promote 50 million Star Trek themed "Happy Meals", and that Bally had by that time already totaled up a sale of US$19.5 million of US$1.795 apiece Star Trek themed pin-ball machines, alone, she divulged that by that time she expected that at the most conservative estimations, licensed Star Trek related merchandise would at least amount to US$250 million dollar, with the possibility to reach double that. "Licensed children's merchandise is the last category to suffer in a recession: Dad will give up his suits, but his kids will still get toys and clothes.", she clarified, adding, "Our fee ranges from one to 11 percent, depending on the product." This statement indicated that the studio was to receive at the very least US$2.5 million, or at the very most US$55 million dollar in licensing and merchandising revenues, though it was unlikely that the upper estimate was ever met due to the mixed reception of the movie and the somewhat disappointing sales of related merchandise. (Playboy magazine, January 1980, p. 310)
Concurrently, parent company Gulf+Western, through Bluhdorn, had commissioned the development of an accompanying, The Motion Picture-themed, book line through subsidiary Pocket Books, which it had acquired in 1975 (and therefore a sister company of Paramount Pictures), and from here on end merchandising and licensing became an integral part of a proactive overall marketing strategy (considerably hammered out by Frank Mancuso, Sr., who was appointed as the department's president after Steel had left), in the creation of a sustained Star Trek product line. [16]
An important development for the overall franchise was the revolution in the way home media formats were marketed. Responsible for this was the by then President of Paramount Video, Mel Harris, who helped to create the home video sell-through market by convincing Paramount to sell low-priced videos directly to the public to persuade customers to purchase videos rather than simply renting them. At the time, videos for sale were priced at around $50 or more; Harris accurately predicted that decreasing the price would create a market for videocassette purchases. His policies helped immensely to make the by him later initiated Star Trek: The Next Generation a resounding success, aside from tapping into yet another revenue source for the Original Series and the movies. While it became one of the most important cornerstones of the overall franchise, it has also become in recent decades somewhat a bone of contention with fans and customers of home media formats, due to the franchise's predilection to release numerous versions of the productions, each somewhat different from the other, leaving "double-dipping" (term used by them for incessantly re-buying alternate versions) fans increasingly feeling alienated from, and "exploited" by the franchise, as evidenced by a myriad of angry customer reviews on Amazon.com. Particularly loathed are the so-called "retailer exclusive" formats. The format entailed that preferred retailers, most notably the chain store Best Buy, would receive versions that contained special features, not included on the regular releases. [17] This became an issue of note during the releases of the Next Generation and Enterprise Blu-ray releases starting in 2012. But the situation truly came to a head during the "Star Trek Into Darkness Blu-ray VAM controversy", which marked the first time that the franchise buckled under the pressure, rectifying their "wrong doings" by releasing the 2014 Star Trek: The Compendium Blu-ray set, and offering a $5 rebate for US residents only (a discrimination – not the first time – which, incomprehensibly, implies that the franchise still considers foreign markets as side-shows), who had previously purchased Star Trek or Into Darkness on Blu-ray. [18].
A somewhat ambiguous situation arose in late 2005, when the original Viacom holding corporation was split up into two independent corporations, the television corporation CBS Corporation (which constituted the former Viacom) and a motion picture corporation, which, a bit confusingly perhaps, was called Viacom (new) and of which Paramount Pictures was now a part. The split was formalized in January 2006. CBS has licensed the right to produce Star Trek films to Paramount Pictures, but the newly formed successor of the Paramount Marketing and Licensing Department, CBS Consumer Products, remained the sole entity responsible for the marketing and licensing of the entire Star Trek product line for both the television as well as the movie properties, instead of farming out the latter to Paramount's own division, Paramount Licensing, Inc.
Relaunching the Star Trek television franchiseEdit
The continuing success of the syndicated Original Series, now augmented with three successful theatrical movies (even The Motion Picture turned out to be far more profitable than the studio initially led to believe – see: Star Trek films: Performance summary) and with a fourth movie and the 20th anniversary of the franchise coming up, enticed now Paramount Television Group President Mel Harris to decide that it would be an opportune time to launch a brand new Star Trek television series, especially since the fourth movie, The Voyage Home, soon proved to be exceptionally successful. To this end he instructed in mid-summer 1986 his subordinate, Paramount Network Television President John S. Pike, to develop what was to become The Next Generation. Initially, the studio wanted to proceed without Star Trek creator Gene Roddenberry, which was, aside from his notorious eccentricities, partly due to his failing health. Nevertheless Pike, heeding his movie predecessor's considerations, decided to bring him in on 12 September 1986, this time in an active executive producer role. (Star Trek: The Next Generation - The Continuing Mission, p. 7) Unfortunately, Roddenberry's eccentricities, aggravated by ill health and his notorious attorney Leonard Maizlish, soon reasserted themselves yet again, turning the production of the first two seasons of the new series into a repeat performance of what had happened during the production of Star Trek: Phase II - The Motion Picture.
In an ironic repetition of what Herbert Solow had to go through twenty-two years earlier, Pike had a tough time selling the series to the networks, as interest in science fiction for television was at an all time low at the time (after The Next Generation started its run, it was for years the only new science fiction series being aired). Most ironically, it was future Paramount President Brandon Tartikoff who declined to buy the series for NBC, which he headed at the time; in 1965 NBC had bought The Original Series. Pike was down to his last option, Fox Broadcasting Company (which, again ironically, was established by Barry Diller, now succeeding where he had failed for Paramount in 1977 in establishing a fourth television network for which Star Trek: Phase II was slated to serve as flagship), finding it interested, but only wanting to commit to a half season of thirteen episodes at an offer that was nowhere near enough to cover the projected budget of US$1.2 million dollar per episode for a full season. For the briefest of times it appeared that the new Star Trek television series appeared to have died before it even had been born, when Pike was approached by his colleague, Paramount Domestic Television President Lucie Salhany. (William Shatner Presents: Chaos on the Bridge)
Salhany convinced Pike to produce the new series for direct syndication, an entirely novel idea at the time, ensuring him she could sell a full season of twenty-six episodes. Taking her cue from the syndication history of the Original Series, Salhany reasoned that even if the new series did not turn in a profit in first syndication run, the studio should still take its losses on this occasion, as subsequent runs would, not to mention the future revenues from associated sales, such as merchandise, home media formats, foreign sales and the like. Even more novel was Salhany's idea to offer the first syndication run of The Next Generation for free, in exchange for control over the seven-minute advertisement blocks. In order to manage financial risk, the studio green-lighted a half season run of thirteen episodes, packaged with Original Series episodes (which were to be paid for by networks) was proposed to see if interest, especially from the side of advertisers obviously, in the new series would materialize, to continue production if it did. Subsequent events proved Salhany's hunch correct. In ultimately doing so, Star Trek again made television history. Mel Harris officially revealed the news of a new Star Trek television series on 10 October 1986. Despite a troubled and rocky production during its first two seasons, The Next Generation went on to arguably become the most successful outing in the television franchise. (William Shatner Presents: Chaos on the Bridge; Star Trek: The Next Generation - The Continuing Mission, pp. 5-7, 11)
As if to underscore that Salhany's hunch was a correct one, the first season finished with a 10.6 Nielsen rating, representing 9.4 million households, ranking first in the 18-49 age group, being the prime demographic group sought by advertisers. While the first season was running, it was already sold to eight European and Asian countries, albeit for a limited run initially and reflecting the studio's thirteen-episode trial run. Additionally, by the start of the series' first summer hiatus, a domestic sale of US$2 million dollar had already been realized in VHS tape sales, which only comprised the first four-six episodes at the time. (Star Trek: The Next Generation Companion, 2003, p. 32)
For a chauvinistic, male-dominated industry as Hollywood was at the time, it was ironic that Star Trek was effectively saved for a second (or third, if one is to include Dawn Steel's crucial contribution for The Motion Picture) time by a woman, as Salhany's namesake, Lucille Ball, had already done so in February 1966 for the Original Series. The chauvinistic nature of the industry was further exemplified by the fact that Salhany's name was kept under wraps for decades, even if her novel approach became well-known, with her boss Mel Harris crediting her idea as a group effort. It was not until the 2014 documentary William Shatner Presents: Chaos on the Bridge that Salhany was unequivocally credited in full by her former colleague Pike as being the brains behind the format.
Unlike its original television predecessor, the series became profitable while it was still in production. On 21 January 1993, the studio declared The Next Generation "in the profit", and announced profit distribution to start the following month. Exceptionally pleased with the result, Mel Harris, in a for the studio uncharacteristic and unprecedented stance, became a Roddenberry supporter (in public at least) when he stated, "In the period since 1987 no other program has been able to get anywhere near ['TNG']....It's primarily because of the program that was created....[I]f this hadn't been created in the way that it was by Gene Roddenberry, it probably wouldn't be on the air today and it certainly wouldn't be performing as it is." If Harris' praise had been genuine, then it was obvious that he had not been present on those occasions when his subordinate John Pike had to deal with Roddenberry. Pike has had his share of run-ins with Roddenberry. (William Shatner Presents: Chaos on the Bridge; [19])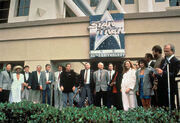 Despite the studio's troubled relationship with Star Trek creator Roddenberry, the studio did at least exhibit the decency to acknowledge him in full for his contribution to their money making franchise. On the occasion of the franchise's 25th anniversary, on 6 June 1991, shortly before celebrating the 100th episode of The Next Generation, the Producers Building on the former Desilu studio lot was renamed the "Gene Roddenberry Building" in a highly publicized ceremony, the only building on the studio lot named for a television production staffer. Paramount television president Harris held a speech, making the above-quoted statement, and during the ceremony Star Trek captain performers William Shatner and Patrick Stewart said a few words about Roddenberry. Not only was it the sole building on the Paramount lot named for a television staffer, it was also a timely one, as Roddenberry was to pass away less than a half year later.
Post-Next Generation productionsEdit
The late Brandon Tartikoff, now chairman of Paramount Pictures in 1991 and 1992, during The Next Generation's fifth and sixth seasons, was deeply impressed with the success of the six (at the time) Star Trek films and The Next Generation, and it was he, in a complete reversal of the position he had six years earlier, who initiated and authorized the creation of a third live-action Star Trek series to launch into syndication, Star Trek: Deep Space Nine. (Trek: The Unauthorized Behind-The-Scenes Story of The Next Generation; DS9 Season 1 DVD-special feature, "A Bold New Beginning")
However, him ordering a third live-action Star Trek television series, entailed far more than just doing that. The Next Generation Executive Producer Rick Berman had recounted that he had a series of meetings with Tartikoff, starting in the summer of 1991. As a former television network executive, Tartikoff was acutely aware that even the most successful series had a limited, economical life-span for a variety of reasons, ranging from psychological cast fatigue, through naturally increasing production costs – if only for the annually inflation adjusted production staff wages as ordained by the Hollywood Unions, and not in the least for star cast salaries habitually inflating exponentially with each sequel – , to increased competition with itself for scarce syndication time-slots the longer a series runs. Together with Berman, Tartikoff decided upon an optimum Star Trek series run of seven seasons, meaning that The Next Generation had at that time only three seasons left to go. Though enamored with the Original Crew movies, Tartikoff was well aware that they too had run their course, if only for the age of the cast, but figured this was the perfect time to pass the baton to "the next generation", thereby starting a new Star Trek movie franchise. He instructed Berman to start looking into that, and have a movie ready at the end of The Next Generation television series (by which time the new Deep Space Nine series had to be up and running for two seasons), preferably one in which, one way or another, featured the transition of the Original Crew to The Next Generation Crew. Given his marching orders, Berman was sent on his way to his most daunting year in his career, 1994. For all intents and purposes, it was Tartikoff who had come up with the leap-frogging seven-season format of the modern Star Trek television franchise, and the start of The Next Generation movie franchise, though he had to leave the actual production start in February 1993 and oversight of what was to become the first Next Generation film, Star Trek Generations, to his immediate successor Sherry Lansing, due to his premature departure. (Star Trek Movie Memories, 1995, pp. 399-403; Star Trek: The Next Generation - The Continuing Mission, pp. 154-157; [20])
By this time the studio's stance and attitude towards Star Trek had radically changed from the one it had back in 1967. Tartikoff had already stated by the time The Next Generation went into its fifth season, "When you look at the books, you saw that Star Trek: The Next Generation was a twenty-five-million-dollar-goody, every year. That's the profit it would generate for Paramount." (Star Trek: The Next Generation - The Continuing Mission, p. 155) Stephen Poe observed two years later for himself how much the studio's stance and attitude had changed, when he resided at the studio on an extended stay in order to chronicle the genesis of the fourth live action Star Trek series, Star Trek: Voyager. Poe noticed that studio employees, executives included, were almost unanimously and reverently referring to their Star Trek property as "The Franchise" due to its reliable and consistent revenue stream, having been from the mid-1980s through the 1990s Paramount's most profitable property, much to the envy of industry competitors[5]. (A Vision of the Future - Star Trek: Voyager, pp. 50-51) Reporter Mark A. Altman disclosed that the entire franchise had already passed the US$1 billion dollar mark in total studio revenues by 1993 (Cinefantastique, Vol 24 #3/4, p. 16), which was upped to US$2 billion gross in Entertainment Weekly's Special Star Trek Issue of 18 January 1995. In his 1998 book A Vision of the Future - Star Trek: Voyager (p. 55), Stephen Poe cited a Los Angeles Times article, that claimed nearly US$2 billion franchise revenues in retail sales alone[6]. Voyager itself was actually conceived to serve as the flagship of Paramount's second attempt of operating a television network, established in 1994 as United Paramount Network (UPN) by Lucie Salhany. Salhany had previously been recruited in 1991 by Barry Diller to head the by him established Fox Broadcasting Company, but returned in 1994 to Paramount to succeed where her former boss had failed back in 1977. [21] Unlike its unsuccessful 1977 predecessor, UPN fared somewhat better, only ceasing to exist in 2006, after it had aired the fifth live action Star Trek series, Star Trek: Enterprise.
Paramount Television remained a dependent division of Paramount Pictures until 2006. In January 2006, the former Viacom was split into two separate, independent companies: CBS Corporation and a new Viacom. CBS Corporation was given ownership of Paramount Television, which was renamed CBS Paramount Television, currently known as CBS Television Studios, and thus gained ownership of the Star Trek franchise and television series, while Paramount Pictures, now part of the new Viacom, retained the rights to the Star Trek films through a license from CBS Television Studios, which remained the sole entity holding the copyrights to the Star Trek franchise. For the movies this meant that, with the exception of the direct box-office takes, the subsequent home media sales and the sale of television rights – though an undisclosed, but likely hefty percentage of these still have to be paid as license fees – , all other forms of revenues, most notably those of related merchandise, revert directly to CBS, not Paramount. An undesirable side-effect the split has caused, was the aggravation of the already controversial "Hollywood accounting" phenomenon. (see: Footnote 3)
More recently, Paramount Pictures had finished developing the 2009 feature film Star Trek and its 2013 sequel Star Trek Into Darkness, directed and produced by J.J. Abrams. The next Trek project is the 2016 sequel Star Trek Beyond.
Studio executives actively involved with Star Trek productions Edit
(Note: This list is currently incomplete.)

In the list below, the name of the executive producers for any given production is also mentioned after its title. Formally, they are not part of the studio executive staff, but the creative managerial heads of the actual productions, and as such officially credited, which studio executives – Original Series executives Bill Heath, Herb Solow, Douglas S. Cramer and The Motion Picture's Lindsley Parsons, Jr. being the notably sole exceptions – are traditionally not. Yet, they do serve as the primary liaison between the actual productions and the studio oversight and consequently, they are answerable to studio executives. Note that even the highest Paramount executives had bosses; Diller, for example, was answerable to Gulf+Western President Bluhdorn, who, while relatively far removed from the production, did make some momentous decisions concerning the Star Trek movie franchise, as related above, aside from being responsible for acquiring the franchise for Paramount in the first place. Also listed are the executives involved with the Star Trek television franchise, since these productions were until 2006 part of Paramount Pictures, as explained above.
Historical overview
Edit
Founded by Adolph Zukor in 1912, Paramount Pictures is America's second oldest, still-operating, motion picture studio behind Universal Studios. Its logo – the highly-recognizable, majestic Paramount mountain – has been part of the company from the beginning, thus making it the oldest surviving Hollywood film logo.
Paramount Pictures was the company responsible for the first film to win the Academy Award for Best Picture, the silent 1927 World War I picture Wings. Since then, Paramount has produced the Academy Award-winning films Going My Way (1944), The Lost Weekend (1945), The Greatest Show on Earth (1952), The Godfather (1972), The Godfather, Part II (1974), Ordinary People (1980), Terms of Endearment (1983), Forrest Gump (1994), Braveheart (1995), and Titanic (1997). Among the other acclaimed films they have produced are Double Indemnity (1944), Stalag 17 (1953), The War of the Worlds (1953, based on the book by H.G. Wells), The Ten Commandments (1956), Breakfast at Tiffany's (1961), The Man Who Shot Liberty Valance (1962), Once Upon a Time in the West (1968), Chinatown (1974), Saturday Night Fever (1977), Grease (1978), Top Gun (1986), Fatal Attraction (1987), Saving Private Ryan (1998), and Zodiac (2007).
Since Star Trek was owned by Paramount Television, many of Paramount Pictures' classic films have been featured on, or referenced to in the various later Star Trek shows, including I'm No Angel (1933), For Whom the Bell Tolls (1943), Sunset Boulevard (1950), Shane (1953), To Catch a Thief (1955), and Rosemary's Baby (1968). The former two are now under ownership of Universal Studios as they own most pre-1950 Paramount sound features.
Upon the acquirement of Desilu, Paramount Pictures turned two other former Desilu properties into franchises by releasing in 1987 an acclaimed feature film adaptation of The Untouchables, which was originally an older Desilu television series (also referenced on Star Trek in VOY: "Memorial" and DS9: "It's Only a Paper Moon").
But it was Mission: Impossible that truly fulfilled the hopes, Paramount had for it when it acquired Desilu back in 1967. Already doing well in its original seven-season run (totaling 171 episodes), a two-season spin-of series (totaling 35 episodes) was produced in 1988, though it suffered the exact same fate the Original Series third season did, through inept planning by network ABC. However, aware that Mission Impossible (like Star Trek) had for the longest of times been a sub-culture favorite, Tom Cruise convinced Paramount to initiate the development of the first of what was to become the highly successful Mission: Impossible film franchise, starring himself, as well as staking out a considerable claim in them as producer and production company. The first film being successfully released in 1996, to be followed with four others by 2015, Mission: Impossible finally fulfilled its hoped-for potential by becoming a huge and profitable franchise on its own, comparable to that of Star Trek (huge, but still smaller), having been preceded by two television series. As a franchise, Mission: Impossible's history has shared some remarkable similarities with that of Star Trek.[7]
Other television series they subsequently produced included The Odd Couple, Happy Days, Taxi, Cheers, MacGyver, Wings, Frasier, 7th Heaven, and The 4400. They also continued to produce the news magazine Entertainment Tonight.
In addition to Mission: Impossible and Star Trek, Paramount Pictures also holds the rights to such successful franchises as Beverly Hills Cop, Friday the 13th, Indiana Jones, and the films featuring Tom Clancy's Jack Ryan character (The Hunt for Red October, Patriot Games, etc.).
In 2001, Paramount Pictures relaunched itself, with a new CGI logo, nicknamed the "CGI Majestic Mountain." In 2005, following the CBS/Viacom split, Paramount Pictures purchased the production company DreamWorks SKG.
On 8 July 2007, Paramount Pictures set the record for fastest studio to earn $1 billion at the US box office in a single year, reaching the mark after 189 days. This is the first time they have held this record since 1998. [22] This achievement is due primarily to the success of the Paramount Pictures/DreamWorks release of Transformers, written by Star Trek (2009) scribes Alex Kurtzman and Roberto Orci.
The studio's 2008 slate of film releases began with the release of the J.J. Abrams-produced Cloverfield on 18 January 2008. This film, which only cost US$25 million to make, earned US$40 million at the box office in its opening weekend – the best January opening on record. It was the studio's 10th biggest opening after Shrek the Third, Transformers, War of the Worlds, Mission: Impossible II, Mission: Impossible III, Lara Croft: Tomb Raider, The Longest Yard, Mission: Impossible, and Deep Impact. Cloverfield broke the Martin Luther King, Jr. weekend record, as well, with a four-day total of US$46 million. [23] [24] Cloverfield is also notable as the film to which the first official teaser trailer for 2009's Star Trek was attached.
Paramount's other films opening in 2008 include The Spiderwick Chronicles, Stop-Loss, the highly-anticipated Indiana Jones and the Kingdom of the Crystal Skull, the Marvel Comics-based Iron Man, the animated Kung Fu Panda and Madagascar: The Crate Escape, The Love Guru, and The Curious Case of Benjamin Button. Iron Man earned $98.6 million on its opening weekend, marking the studio's best opening for a live-action release. [25] In 2009, in addition to Star Trek, Paramount is slated to release films such as Transformers: Revenge of the Fallen (also co-written by Roberto Orci and Alex Kurtzman), Nowhereland (starring Eddie Murphy, Vanessa Williams and Ronny Cox), and G.I. Joe: The Rise of Cobra (starring Rachel Nichols).
Paramount Studios sound stages
Edit
During production on Star Trek, Paramount Studios had thirty-two sound stages that varied in size from the smallest, Stage 22, to the largest, Stage 16, the former one never utilized by Star Trek. (A Vision of the Future - Star Trek: Voyager, p. 49)
Backlots
Edit
Aside from the sound stages, several standing sets and other places located on the outdoors Paramount lot, were also utilized during the filming of Star Trek productions. The exteriors of studio office buildings were used for location shooting for TOS: "Bread and Circuses", "Patterns of Force" and "Assignment: Earth". The structure known as "B Tank" (short for "Blue Sky Tank") was used as a filming location for TOS: "A Private Little War", "The Omega Glory", Star Trek: The Motion Picture and Star Trek IV: The Voyage Home.
Prior to 1983, the "McFadden Street" and "Boston Street" backlots were used in TOS: "A Piece of the Action", while the "European Street" backlot was used in "Patterns of Force".
On Thursday 25 August 1983, the Paramount lot was struck by a large fire, destroying most of its standing outdoors sets, including the by then 56-years old "New York Street" set. The fire occurred while Star Trek III: The Search for Spock was being filmed, and it was the fire where William Shatner had famously claimed that he had served as a firefighter. [26]
The "New York Street" backlot was newly rebuilt and extensively used for the later Star Trek television productions,
"New York Street" backlot as featured cityscapes
Appendices
Edit
Further reading regarding Star Trek studio involvementEdit
Further reading general studio history
Edit
Footnotes
Edit
External links
Edit