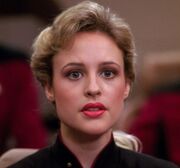 Pamela Winslow is the actress who played the recurring role of Ensign McKnight in the Star Trek: The Next Generation episodes "Clues", "In Theory", and "Face of the Enemy". For "In Theory", Winslow filmed her scenes on Monday 1 April 1991 and Wednesday 3 April 1991 on Paramount Stage 8.
Winslow was featured in episodes of American Dreamer (1990) and They Came from Outer Space (1991). From November 1987 through September 1989, she appeared as Rapunzel in the Broadway musical "Into the Woods" which was aired as television musical in 1991. She reprised her role for a benefit special on 9 November 1997.
Further film work includes the television drama Passionata (1992), the comedy Little Sister (1992, with Christine Healy, William Frankfather, and Michael Berryman), and the comedy Steal Big Steal Little (1995, with David Ogden Stiers, Natalia Nogulich, Charles Rocket, Victor Rivers, and Time Winters).
More recently Winslow appeared in the short film Back to Me (2008) and in the television drama Kate So Far (2009).
Winslow also appeared in the Broadway plays "Meet Me in St. Louis" (1989-1990), "Beauty and the Beast" (1994-2007), "Hair" (2009-2010), and "Memphis" (2009-2012).
External links
Edit
Ad blocker interference detected!
Wikia is a free-to-use site that makes money from advertising. We have a modified experience for viewers using ad blockers

Wikia is not accessible if you've made further modifications. Remove the custom ad blocker rule(s) and the page will load as expected.