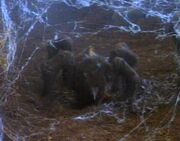 "Whoa! What's that?! What is that, a spider or a dog?!"

- Jadzia Dax, "

The Siege

"
The palukoo was a large arachnid indigenous to the Bajoran moons.
During the Occupation of Bajor, Bajoran Resistance members often survived on a diet of palukoo.
In 2370, Kira Nerys and Jadzia Dax encountered a palukoo while passing through the caverns of the Lunar V base, searching for a Bajoran raider. Jadzia jokingly thought the Resistance fighters kept them as pets, and sang about them around campfires before discovering their true purpose. (DS9: "The Siege")
External link
Edit
Ad blocker interference detected!
Wikia is a free-to-use site that makes money from advertising. We have a modified experience for viewers using ad blockers

Wikia is not accessible if you've made further modifications. Remove the custom ad blocker rule(s) and the page will load as expected.