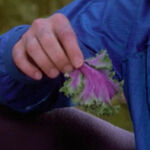 Oskoid was a leaf-like Betazoid food, dark yellow with purple veins, that contained sap said to keep one warm. Considered a Betazed delicacy, it was a favorite food of Lwaxana Troi.
In 2366, she offered some to Deanna Troi and William T. Riker. He enjoyed it. (TNG: "Ménage à Troi")
She replicated some oskoids when she was aboard the USS Enterprise-D with Timicin in late 2367. When shown the food, he found it interesting. At the time, Lwaxana was angry at him for seriously contemplating his race's practice of ritual suicide at age 60 and told him he should have tried it while he was still alive. (TNG: "Half a Life")
Ad blocker interference detected!
Wikia is a free-to-use site that makes money from advertising. We have a modified experience for viewers using ad blockers

Wikia is not accessible if you've made further modifications. Remove the custom ad blocker rule(s) and the page will load as expected.