Ad blocker interference detected!
Wikia is a free-to-use site that makes money from advertising. We have a modified experience for viewers using ad blockers

Wikia is not accessible if you've made further modifications. Remove the custom ad blocker rule(s) and the page will load as expected.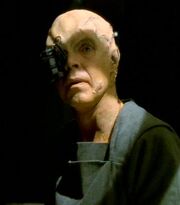 Doctor Orum was a Romulan citizen captured by the Borg and eventually transported back to the Delta Quadrant. Sometime before 2373 the Borg cube that he was on was damaged by an electrokinetic storm and the link to the Collective was severed. Orum along with the other survivors transported down to the nearest planet.
Despite being raised to hate Humans and the Federation, Orum became friends with Riley Frazier, and assisted her in forming the Borg Cooperative. Orum's role in the Cooperative was that of the medic.
When Chakotay, of the USS Voyager, answered a distress call and landed on the planet in 2373, Orum helped to treat the wounds Chakotay had suffered. (VOY: "Unity")