Ad blocker interference detected!
Wikia is a free-to-use site that makes money from advertising. We have a modified experience for viewers using ad blockers

Wikia is not accessible if you've made further modifications. Remove the custom ad blocker rule(s) and the page will load as expected.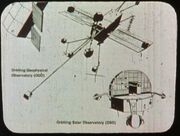 The Orbiting Geophysical Observatory, or OGO, was a 20th century series of artificial satellites used by NASA for studying the Earth's magnetosphere.
A black-and-white drawing of the satellite was stored in the USS Enterprise library computer. This drawing was retrieved by the Talosians when they accessed the starship's computers in 2254. (TOS: "The Cage")
External link
Edit