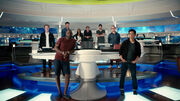 Omaze is an United States-based company founded in 2012. It aims to raise funds for non-profit organizations through online auctions and raffles.
In 2015, Omaze began working with Paramount Pictures to put together a series of online auctions and promotion for the upcoming Star Trek Beyond.
Through this partnership, the cast of the film announced a charity campaign entitled "To Boldly Go" on 14 July 2015 to benefit nine children's charities.
In 2016, a new campaign was launched that offered (among other things) the chance to attend the red carpet premiere. Omaze
External links
Edit
Ad blocker interference detected!
Wikia is a free-to-use site that makes money from advertising. We have a modified experience for viewers using ad blockers

Wikia is not accessible if you've made further modifications. Remove the custom ad blocker rule(s) and the page will load as expected.